Have you been waiting for a By Grace Alone Necklace from Lisa Leonard?
We sold out and now they're back in stock!
We love this message from I Corinthians 15:10, "By the grace of God, I am what I am."
See Lisa's exclusive pieces in the (in)courage shop.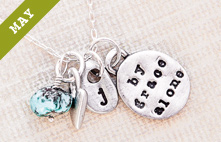 Sign up for free email updates and be entered to win our monthly giveaway of over $100 in beautiful product!