We are an unlikely jewelry shop.
Copper bits underfoot. Tools next to trikes. Hammering from the garage all hours of the night.
A family stringing beads, love together.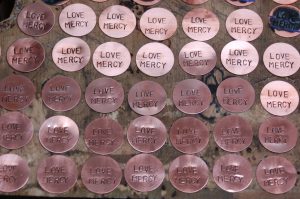 It isn't who we thought we'd be.
It isn't what we thought we'd do.
But isn't that they way of God?
Pressing us out of our comfort zone into His Presence…
My husband, the artist: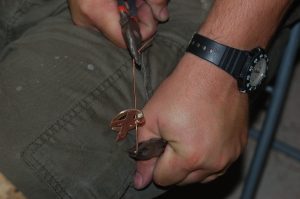 Little known fact-he's a kind-hearted Southern boy who is also a mean seamstress.
I married up.
Oh, and also, on our very first weekend of jewelry-making this summer, he spilled a container of 1,000,000 beads on our tile floor. I still hear a crunch when I vacuum, upstairs.
Do you have any Mercy House jewelry? Tell me what you love/have in the comments!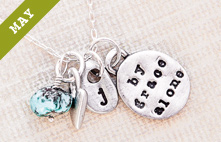 Sign up for free email updates and be entered to win our monthly giveaway of over $100 in beautiful product!
ABOUT KRISTEN WELCH
Kristen writes at her parenting blog, We are THAT family, and offers an honest mixture of humor and inspiration. Her first book, Don't Make Me Come Up There, a book for busy Moms, will be in...