Find Ann's post and many others in DaySpring's Winter Magalog!
***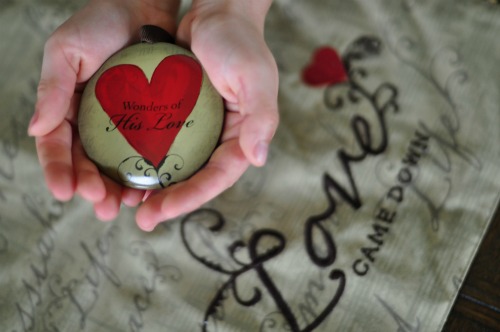 Steam rises from loaves of holiday bread cooling on the counter. The snow keeps coming down.
Checking off the to-do lists in late afternoon: lay out dishtowels to wrap the loaves up in, tie with sprig of cedar, a bow of raffia — gifts for the neighbors, the mailman, the farm vet.
Hard to wait for them to cool. Hard to wait. Hard, with all the lists and to-dos, to still at all in the spin of the season.
This, the season of waiting wonder: God gestates.
For nine long months, The Maker of everything hovered over the waters of the womb, divided His own cells and pulled on skin. God waited to make His entrance. Mary gently rubs her swelling abdomen. She waits. She prays. She stretches.
God stirs within. He moves her.
Is that how to truly enter into Christmas? Christmas comes like Christ: in the resting wait of gestation.
Like a mother longing for the holding of the Child:
1. We count the days.
Each day, opening the advent calendar square, reading the verse, each day turning over the next page in the tabletop devotional. We count and anticipate and wonder what this all means.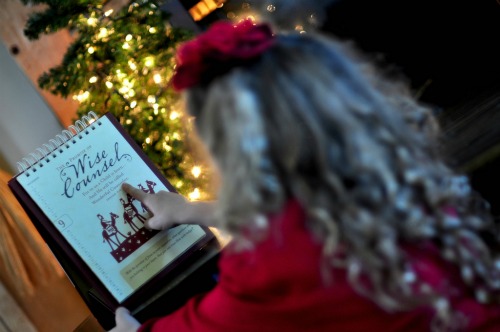 2. We think of His names
His names on the candlesticks, His name on the turntable, His name on the advent calendar, His names on the mantle: Messiah, Redeemer, Mighty God, Savior – Bread of Life. We wait for what will come from above and unexpectedly, right into our mire.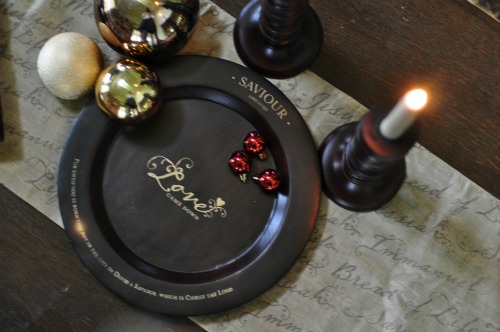 3. We prepare gifts for the Child.
We light candles and make a space in our hearts. We send cards of celebration to friends far and near, reaching out with His love. We invite a friend in for a cup of something warm and give her the gift of a listening ear. We give to the least of these and this is the gift to Christ Himself.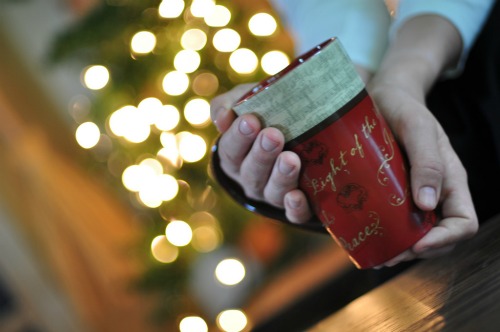 These gestational waiting days of anticipating the Christ Child, they gloriously stretch us.  Yet– whenever Christmas begins to burden, it's a sign that I've taken on something of the world and not of Christ. Any weight in Christmas has to be of this world. Christ came into this world as grace to lift all the weighty burdens.
Christ the Babe comes to us in Christmas as Christ the Savior comes to us on the Cross — seeking only our embrace.
I look over my list on the counter. What if I laid down efforts and expectations, perfectionism and performance? What if I breathed deep and simply waited with arms and heart and eyes wide open? What if Christmas was the season to let go of to-do lists adding up — to receive what's coming down? Love comes down.
Christmas, it isn't a product to wrap but a Person to unwrap. What can keep me today from simply receiving Him? Love comes down.
Christmas, it can't be bought. It cannot be created. It cannot be made by hand. Christmas can only be found. Where am I looking for Christ in the unexpected today? Love comes down.
In the stillness, we feel it — His movements. In the stillness, our hearts leap — His coming! In the stillness, we know it– what falls down upon us — breath of heaven.
Love comes down.
The steam of the bread it rises and I stand at the window watching it all come down, white and perfect and weightless.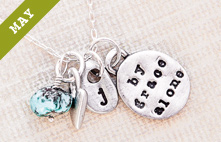 Sign up for free email updates and be entered to win our monthly giveaway of over $100 in beautiful product!