Bloom- FAQ
How do I join the book club?
All you have to do to participate is pick up the book, and follow along each week to the chapter studies! Feel free to purchase a book here.
How long will each video be available?
All of the videos will be available through the entire book study. You can find the chapter studies and videos for the current book study here. Once we have concluded this book study, you will still be able to locate all chapter studies and videos on the Past Bloom Selections tab.
I'm looking for a specific chapter study from a past Bloom book study. Are they still available?
Yes, all Bloom book studies along with each chapter study are available. You can find them on the Past Bloom Selections tab.
Is there a way to receive reminder updates when new Chapter Studies are available for the current book study?
You can subscribe to the Bloom email list here to receive updates when each new Bloom post is available. This email  list is separate from the (in)courage subscription email, and you will only receive updates from Bloom. You can sign up here to receive ALL post updates from (in)courage.
Sponsor Book Questions
I can't afford a book. Can I still participate in the book club?
If you can't afford to purchase a book, you'll be able to apply for a free sponsored book. We want everyone that wants to participate in Bloom (in)courage to be able to do so. We will distribute as many books as possible based on donations from others in the community, the book publisher and DaySpring. The sign up form to request a free book will be available on Wednesday, August 15th on Bloom.
I'd like to help someone who can't afford a book. What can I do?
If you follow this link, you'll find a "sponsor book" item. When you place your order for a "sponsor book", you will be purchasing a book for someone who can't afford a book but wants to participate in the Bloom (in)courage Book Club. The cost to sponsor is $10 per book.
I'm purchasing a Sponsor book but I still have to enter shipping information. What should I enter?
Even though you are purchasing a sponsor book, you will still have to enter your own personal shipping information. This helps with the billing process and the book(s) will not ship to the address that you enter. We will take care of shipping your sponsored book to someone who requested a sponsored book.
I'd like to sponsor a book for someone. Who will receive the book?
DaySpring will assign each sponsored book to those who request a free book. All you have to do is purchase a sponsored book, and DaySpring will assign the book and ship the book.
Can I sponsor more than one person?
Yes! Feel free to sponsor as many people as you would like! Just purchase multiple quantities of the "sponsor book" here.
I don't live in the U.S. and can't afford a book. Can I apply for a sponsor book?
Yes. You may request a book and it will be delivered to you electronically. To request an electronic copy of the book, fill out the request form that will be available August 15th.  Enter your name, email address, and country in the address fields. You may have to download an application to access the book– we will send out an email to help you with this.
Do I have to purchase a book for myself to sponsor someone?
No. If you already have a book or just want to help someone else participate but won't be able to yourself, you can still purchase a sponsor book here.
When will I know if I will receive a sponsor book?
If you request a sponsor book, we will notify you by email within a week of your request to let you know if you will be receiving a book and when to expect it.
What is the deadline for requesting a sponsor book?
The last day to request the current book is August 17, 2012. We do have a limited amount of books available and will close the form early if we meet our limit.
Can I sponsor a book after the deadline has passed?
Unfortunately, we are unable to take any further requests or ship any additional sponsored books after the deadline of August 17, 2012.
May I sponsor a book for a specific friend of mine?
If you'd like to give a book to a friend, it would be best to purchase two regular books, instead of a "sponsor book". Both books will be shipped to you. You will be able to receive free shipping when you purchase two or more books with code: bloombook
If I use the coupon code: bloombook for free shipping, how will it ship?
Free shipping applies only for orders shipped FedEx ground.
Do I have to pay shipping on a sponsored book?
Shipping charges do apply when purchasing a sponsored book. You can purchase two copies and receive free shipping with code bloombook.
Is there a limited number of people who will be sponsored?
DaySpring will make every effort to sponsor each individual who requests a book within the due date period; however, if we are unable to fulfill all requests, those selected will be based on a first come, first serve, basis.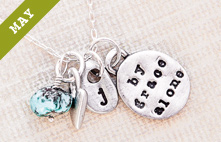 Sign up for free email updates and be entered to win our monthly giveaway of over $100 in beautiful product!