Bloom (in)courage Story
Bloom (in)courage (originally just Bloom) was dreamed up and started by Jessica Turner and Angie Smith two (in)courage contributors and best friends. Jessica and Angie met at church in 2005, when Angie was pregnant with her daughter, Kate. Jessica's husband Matthew had gone to college with Angie's husband Todd. After weeks of talking about it, they finally got together for dinner and a life-long friendship was instantly formed.
Since then they have spent hours crafting, laughing and crying and enjoying their children playing.
Reading is a love they both share, and they started Bloom with the hope that it would grow into a long-lasting book club where friendships are formed from around the world.
In the fall of 2010 Jessica, Angie and the (in)courage team decided to bring Bloom to a new home on the (in)courage site and invite the (in)courage community to join with the Bloom community together in one place. Bloom (in)courage was launched here on it's new home at (in)courage in January of 2011.
The Bloom (in)courage book club is a place to read, discuss and grow together.
Thank you for joining us in this endeavor. We are honored that you would spend time in community with us.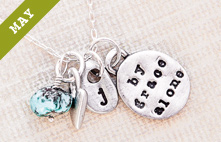 Sign up for free email updates and be entered to win our monthly giveaway of over $100 in beautiful product!
ABOUT INCOURAGE
Home for the hearts of women, where you're always welcome just as you are. So kick off your shoes, put your sandy feet on the coffee table, and let's visit long and late and listen for God's voice...