The curtains hung half hazard, cups and plates piled high, throw pillows thrown. My hubby wiped the table, I put away leftovers, stepping over a misplaced toy on the kitchen floor, the kids tattled. "Mom, one of the kids said a bad word tonight."
It was just another night of community group in our home, kids and parents at our table, breaking bread -and apparently wall hangings-together.
No one said it would perfect. This loud, messy gathering of friends filling our house and our hearts. Sure there's inconvenience and sacrifice involved, but we cannot deny the absolute benefit of doing life with others.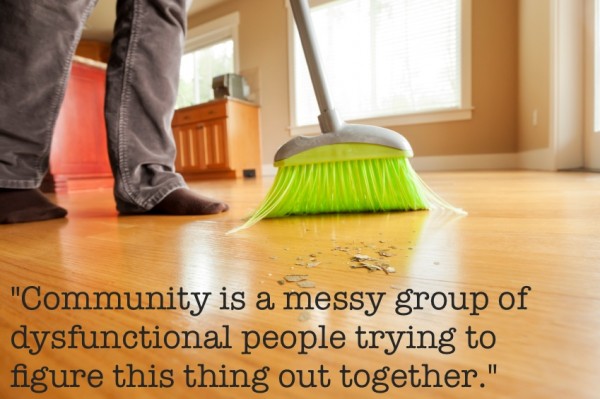 Community is a lot like family, it takes hard work.
Community is just a messy group of dysfunctional people trying to figure this thing out together.
I'm convinced we cannot fulfill God's unique purpose for our lives without it.
We laugh and commune, hold each other accountable, share the joys and the sorrows. We travel through the mountains and valleys together. Community builds up a treasure chest of shared experiences and the bond grows. Community allows us to set aside our differences.
I don't know about you, but God didn't give me a perfect family. We are a bunch of sinners trying to live out the gospel, getting it wrong more than right.
We are weak and wounded, but when He shines through the thin places, He is most effective in us and through us.
It's the same with community.
"As you live in close contact with me, the light of my presence filters through you to bless others. Your weakness and woundedness are the openings through which the Light of the knowledge of my Glory shines forth. My strength and power show themselves most effective in your weakness." Jesus Calling
We often make community about us. What can this give me? What empty place will this fill? And while the rewards are there, the end goal of search for community is not how community will help us, but how community will benefit the world.
"Jesus had the most rag-tag small group ever – complaining, fighting, betrayal. But He stuck with them, and they changed the world." -Jason Johnson
For His glory.
We need community. Community needs us. "Community is not a luxury but a necessity for life. People need to be involved in meaningful and constant community or they will continue on indefinitely in a state of intense loneliness." -Randy Frazee
How are you pursing community today? Can I urge you to push past the mess that comes with dysfunction and pursue life together with others?
Because we cannot live without it.
Written by Kristen Welch, We are THAT family
Leave a Comment