It hurt me to watch her walk.
I cringed as she grimaced in pain with every small step, leaning heavily on a walker. Two years ago she traipsed to Africa twice in one year and handled the continent like a youngster. I'm not used to seeing my mother frail.
Since coming home from Kenya with me, she's had 3 surgeries on her knee. Two to try and repair one gone wrong, but with rapid debilitating arthritis in the area, we knew it was leading up to the ultimate and final surgery: a full knee replacement.
The promise of a new knee would restore her freedom, her ability to move.
But first she would have to be broken.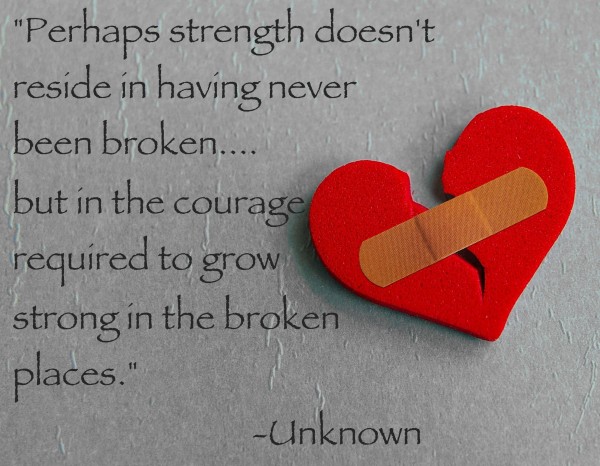 I'm not a medical expert, but I do know that in order to replace an old knew joint with a new plastic and metal one, it requires peeling back tissue and muscle and cutting the old one away.
The days following this difficult and complicated surgery were harrowing with 103 fever spikes, tears and overwhelming post-operative pain. But she has been broken so she can heal.
"Perhaps strength doesn't reside in having never been broken….but in the courage required to grow strong in the broken places." -Unknown
Growth in our weak places makes us stronger. It heals us.
We fear brokenness, but we shouldn't. It's in that place, we find God.  "God uses broken things. It takes broken soil to produce a crop, broken clouds to give rain, broken grain to give bread, broken bread to give strength. It is the broken alabaster box that gives forth perfume. It is Peter, weeping bitterly, who returns to greater power than ever." -Vange Havner
We are left with the scars so we can remember.
I've just returned from visiting my mom. She's slowly walking, pushing through the pain. She gives me a half smile, knowing. It's not because the stretching doesn't hurt, it's because she can see past it to the healing.
Are you broken today? How can we pray for you?
by Kristen Welch, We are THAT family
Leave a Comment