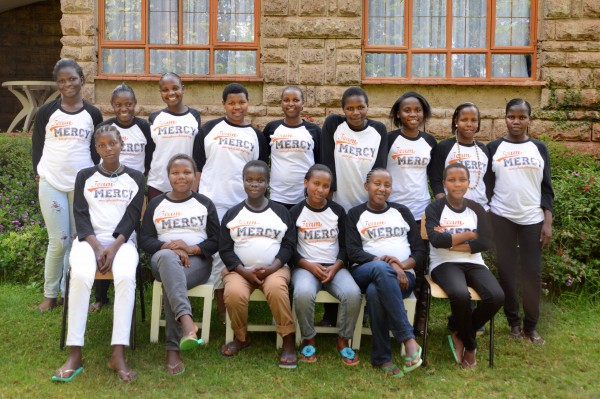 We sat on the lush green lawn next to the sprawling manor and let the sun warm us.
July in Kenya is cold.
The Mercy House babies toddled and giggled offering us flowers from the nearby bushes, while their teen moms finished lunch.
It looked like just another Thursday in Africa. But it was more. It was miraculous.
The wind whipped through the willow trees and blew petals from the flowering plants and it was as if nature itself bowed down at the holiness of what God had done.
A houseful of transformed residents. Six new pregnant girls. New babies coming in the fall. Two beautiful homes paid for by a bunch of mothers. Glorious. For His Glory.
The task still seems more daunting than ever–our first HIV case, 12-, 13- and 14-year-old pregnant girls, reaching beyond our walls into the neighboring slum to help a dozen more teen mothers. But God can do anything, even the impossible. And He is.
I looked up from the baby in my lap and saw my own teen daughter talking intently to one of the older Mercy House residents.
The wind carried words and I caught bits and pieces of their conversation.
"Why do you think I was born here in Kenya and you were born in America?" Violet, 17, mother to 2-year-old Maureen asked my daughter.
"I don't know," my daughter said after a long pause. I could tell she was thinking.
It's a hard question.
These Kenyan girls only know of America from the news and movies. We are mostly the only Americans they interact with once or twice a year. And while they've never visited and probably never will, they long to. Because they understand how much we have. They know how much we've been given.
And then I heard my 14-year-old daughter whisper to her African-born friend, "Maybe we were born in America so we could help you in Kenya."
They grabbed each other's hands and held on. I swallowed the lump in my throat.
Because yes, this is it. The honesty and purity of one child's words to another were holy.
Because maybe this is why we have so much. Maybe this is why we were born where we were born.
Maybe this is why we are where we are today.
I don't know where you are right now. You might be in any country in the the world. You might be in the middle of your house, in the middle of suburbia folding laundry. You might be reading this on your shift break at your job in the hospital on floor 2. You might be standing in line at the pharmacy, waiting on medicine for your mother who is very sick. You might be in the lowest season of your life or the best. I don't know. But it matters.
Because you are where you are for a reason.
Someone in your world, at your job, in your neighborhood, on your path needs to know that you are where you are because you can help them where they are.
Someone is waiting for you to share your money, your time, your life with them.
We were created to reveal the glory of Jesus to others.
And you might question where God has you today. Why here, God? Why this hard, broken place?
I have thought about my daughter's words over and over. They remind me of my purpose. I was created for more than surviving, getting by, moving to the next thing in life.
We are where we are for a reason.
Let's find it.
by Kristen Welch, author of Rhinestone Jesus: Saying Yes to God When Safe Faith is No Longer Enough and founder of Mercy House Kenya.
[linebreak]
Leave a Comment