Stories matter. I read research that said certain parts of your brain light up when someone starts telling a story. It's why we love books and movies and the arts. We read the same stories over and over in the Bible and dissect them meticulously saying, "What was God doing here?"  
That's one reason I started writing (although you don't have to be a writer to share your story). Blogspot, Instagram, Facebook, any form of social media — they were all free, and no one cared if I used capital letters at the beginning of my sentences (newsflash, I didn't), or if I was using proper grammar, or if I said things a little off-color. I just told the truth about my life without sugarcoating the tough spots. And others found themselves there too.
When I started writing my first book, I had a publisher pursue me. That may be rare, but in the end, even after garnering me a writing coach at a good cost, they rejected my proposal. I hear that memoirs are hard to sell in any genre, but especially in the faith space. We have this thing where everything must be useful and prove its worth. Of course, that's not the faith we profess verbally (not by works but by faith!). But it's how we function.
All those true and chaotic stories of my life, the testimonies of my foolishness and success, just weren't deemed enough. "Half of us really liked it, and half of us didn't get the point." When the publisher gave that feedback, I honestly felt relieved. I was scared to put a book out there because I knew what it would mean: when you tell the truth about your life, not everyone makes it out unscathed. People get hurt, and so do you. So I quit the book. Here I was, with a story to tell, but no market to tell it in. 
But the book wouldn't quit me. 
I started wondering, Why do we forget to ask the same question of ourselves that we ask of Bible characters: "What was God doing there?"  
What was God doing in my stories? I was honest in that book. I was vulnerable about infidelity, miscarriage, and our differently-abled child. I told the truth about motherhood and how in it, a part of you dies. I told how I taught a blind man to drive a John Deere Buggy, and how I sold my neighbors' own rocks back to them in a bit of shady entrepreneurship at age eight. How I rose to the top of my network marketing company, and I liked being successful. (Many of you will stop reading here. But wait, would you like to look at this amazing business opportunity before you go?! Just kidding.) I discussed not fitting into evangelical spaces because I like to work, and I am more than a wife and a mother. (Gasp!) 
It takes a bit of looking back to look forward, and in doing so, we'll find a lot of buried treasure. If we keep looking at the moments in our lives that really shaped us and get curious about how and why they did that, we'll start making connections. I really liked that idea, and still do. Publishers liked it too, and we got a deal.
There's a marketing saying, "The riches are in the niches." But it's not just for marketing. You are a niche, so varied from the next person, so valuable just by being alive. God knew we'd need all types to help us see different facets of Himself. I love that because it lends itself to a unique purpose for each of us. And your purpose certainly won't look like mine or anyone else's. It just can't. That's really good news in a world that says everyone needs to act and look like whatever the railing trend is at the time. (I can't get behind JUICY bedazzled on the rear of my pink velour sweatsuit for another round. I draw the line somewhere!)
My wish for you is that you would take up more space in storytelling, in bearing witness to your layered and complicated life. And letting others bear witness. Write it down. Tell the vulnerable truth. Say it with your own mouth, with your own pen. That's what happened as I wrote This Must Be the Place — seeing how the stories of my life have led me to exactly where I am and what I do today. When you ask yourself past-probing questions, you'll discover the clues God has left along the way. I guarantee you'll start connecting dots and stop seeing "coincidences" but unique empathies, talents, and callings. Looking back makes you look forward. You won't be able to help yourself. And when you start feeling on purpose, you have a giant permission slip to live uniquely as you without comparing yourself to others' lives that aren't meant to be yours.
Take up space with your story. The world is ready to bear witness to your rich life. And while we're not after usefulness, your story may be a breadcrumb on the trail of someone else's life. 
—
Through stories like a quirky childhood selling rocks and a season of brokenness in her marriage, Jami's new book, This Must Be the Place: Following the Breadcrumbs of Your Past to Discover Your Purpose Today, uses the breadcrumbs from her life to give women permission to discover the purpose God has for them. With sincere encouragement and boundless humor, Jami brings a new perspective to living intentionally, chasing dreams, and finding satisfaction in using your gifts and passions.
Pick up your copy of This Must Be the Place, and leave a comment below to enter to WIN one of five copies*!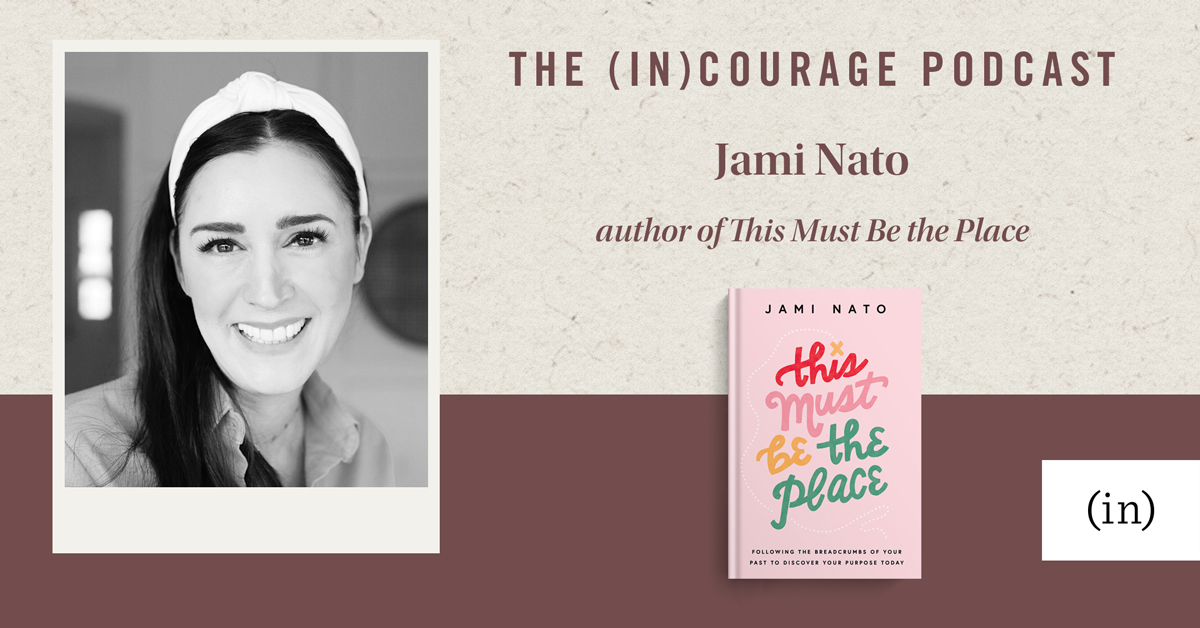 Then tune in TOMORROW (6/10/23) to a bonus episode of the (in)courage podcast as Jami talks with Becky Keife about This Must Be the Place!
Listen to today's article at the player below or wherever you stream podcasts.
*The giveaway is open to U.S. addresses only and closes on 6/12/23 at 11:59 pm central.
Leave a Comment