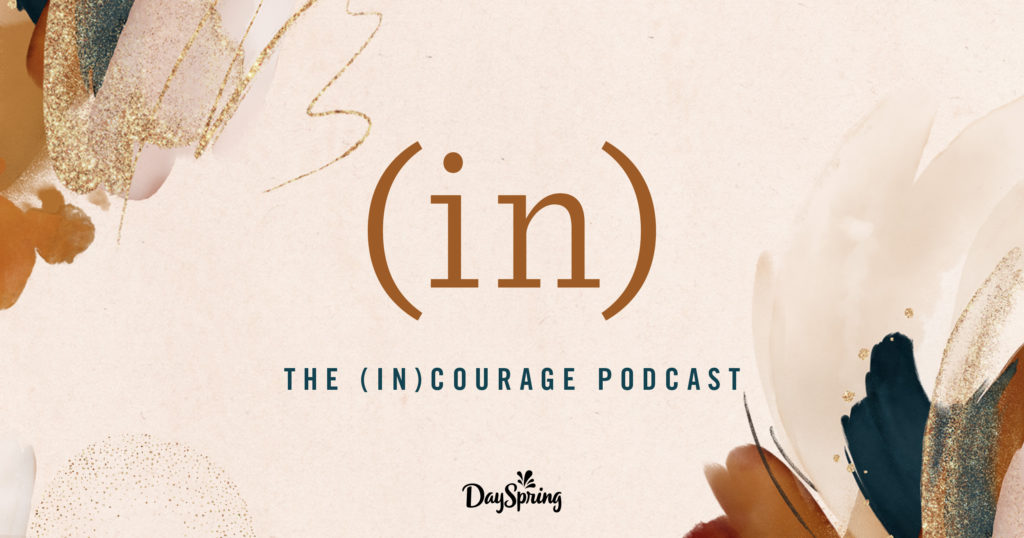 Welcome to the (in)courage podcast! Listen to our articles each weekday — subscribe today so you don't miss a minute. You'll find an audio player in each weekday article — listen as narrator Grace P. Cho reads the daily words from our writers. You can also listen via your favorite podcast player — be sure to add us to your library!
We hope you'll bring us along with you on your morning walks, driving to the grocery store, waiting in the preschool pickup line, alone in your kitchen, or as you wind down for the evening. Wherever you join us, you're welcome here, and we're honored to be a part of your day.
Hear past seasons of the (in)courage podcast below and wherever you listen to podcasts. The (in)courage podcast is brought to you by DaySpring, makers of your favorite cards, books, and gifts. Visit them today at DaySpring.com.
Recently heard about on the podcast: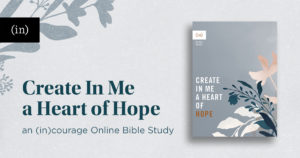 Looking for hope? We've got some for you. Join our summer (in)courage Bible study! We'll study through Create in Me a Heart of Hope and discover how God offers us hope – real, certain, unshakeable hope. Get your copy and sign up today!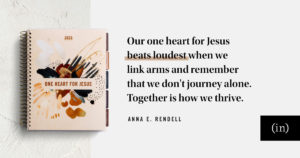 Stay organized and inspired every day of the year with an 18-month Agenda Planner from DaySpring! Available in 5 different designs, each one is full of Scripture to encourage each and every day! Use code PODCAST10 to get $10 off your planner purchase at dayspring.com!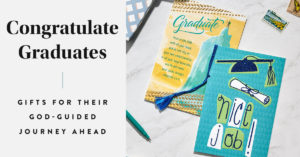 GRADS: Graduation season is here! Are you Ready to Bless the Grads in Your Life? Pick up a faith-filled card and gift from dayspring.com to inspire and remind them of where their true strength lies, long after the graduation ceremony is over. Shop for the special grad in your life today!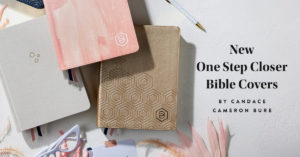 The One Step Closer Bible from Candace Cameron Bure is here to meet you and your questions, needs, and concerns – and is now available in beautiful new covers! Candace says, "When I discovered that this Book held the answers to everything, from how to respond when I disagree with a loved one to how to rest, it completely changed my life." Find the One Step Closer Bible here!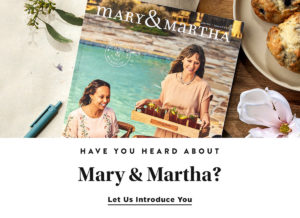 Imagine being part of a faith-based company where you can create your own schedule, share inspirational products, earn unlimited income, and belong to a sisterhood of women like you! Meet Mary & Martha – where women build women up in faith and business. To learn more, visit MaryandMartha.com.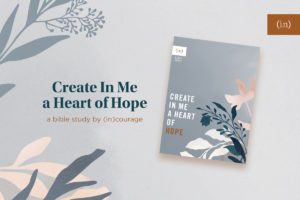 Introducing Create in Me a Heart of Hope, the new (in)courage Bible study from DaySpring, written by Mary Carver and featuring stories from your favorite (in)courage writers. Get a FREE week from Create in Me a Heart of Hope here, and start reading today!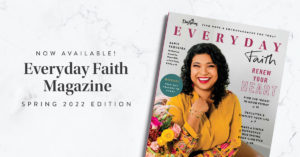 The spring issue of Everyday Faith, DaySpring's quarterly magazine, is now on newsstands! Pick up a copy today on DaySpring.com or at your local grocery store, Sam's Club, Costco, Walmart, or wherever you buy magazines.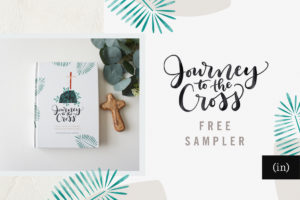 Did you know that the season of Lent started March 2nd? Lent is the 40-days before Easter, a season for preparing our hearts to celebrate Christ's resurrection. We have the perfect book to guide you this year – Journey to the Cross, by (in)courage writer Mary Carver. Learn more and download a free sample here. 
Looking for ways to live your faith front and center? From cards, books, and Bibles, to calendars, jewelry, and coffee mugs… at dayspring.com, we've got just what you've been looking for. Get $10 off any order using code PODCAST10 at dayspring.com! 
Are you looking for a healthier lifestyle? Click here to join Candace Cameron Bure on a 10-week journey to a healthier life — physically, spiritually, and emotionally — with her new wellness journal, Healthy in the Hustle!

Click here to take the 2022 Word of the Year quiz. Let's look to the Lord and choose one specific word that will help us intentionally live our faith in 2022.
Past Seasons of the (in)courage Podcast
Season Three brought (in)courage and DaySpring team members Anna and Joy talked their way through the Courageous Kindness Bible study. Each episode featured their stories and conversations, along with an excerpt of the Bible study read by author Becky Keife. Also, every episode featured a clip from the companion Bible Study videos! These videos feature (in)courage writers Lucretia Berry and Grace P. Cho alongside Becky, as they offered us a seat beside them in the living room and discussed Courageous Kindness together. Click here to get your copy of Courageous Kindness at DaySpring.com — use code PODCAST25 at checkout to save 25% + get free shipping!
Season Two brought (in)courage and DaySpring team members Joy Groblebe and Anna Rendell as they talked and laughed their way through the Courageous Influence Bible Study. Each episode also featured a story from Courageous Influence read by an (in)courage contributor, and clips from the Courageous Influence discussion videos with Becky Keife, Kathi Lipp, and study author Grace P. Cho. Learn more about the Courageous Influence Bible Study! Also, visit dayspring.com and use code PODCAST25 at checkout to save 25% + get free shipping on a copy of Courageous Influence!
Season One of the (in)courage Podcast was all about what it means to live with Courageous Joy. Because who doesn't need more joy in their life? Hosted by Becky Keife and Mary Carver, they brought funny and vulnerable conversations as they discussed their way through our Courageous Joy Bible Study. They were joined by friends along the way who shared their honest stories of what joy looks like in their lives. Written by Mary and featuring stories from other (in)courage writers, the Courageous Joy Bible Study looks at what God says about real joy — even when life gets hard.