Click to Tweet This—>!: ONE DAY GIVEAWAY to everyone who's joined an #inRL meetup!! #somuchawesome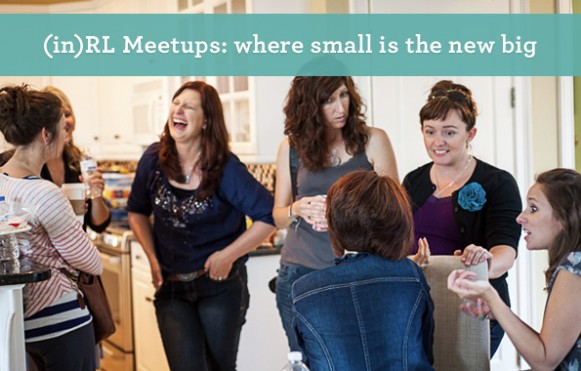 We're getting so excited for (in)RL – and we're less than three weeks away!! Have you registered yet for our FREE webcast on the topic of friendship and (in) real life meetups on April 26 and 27? Why not go do it now? Go ahead – we'll wait here. :)
Okay, now that you're registered and have joined a meetup in your town, we have some exciting news for you. Today only, we're giving away a special (in)RL set of this gorgeous Lisa Leonard necklace and this inspiring (in)RL print full of words of community to 50 people who have joined a meetup!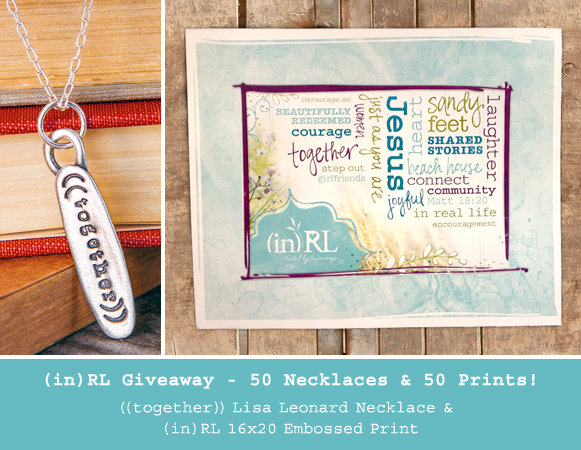 Both of these gifts were designed exclusively for the (in)courage community – and both reflect the heart of (in)RL, drawing women together in their own communities to share honestly, to forge bonds and build relationships, and to simply live authentic lives together.
Together. That's what this is all about, isn't it?
It's okay to be nervous about (in)RL. Meeting new women and opening yourself up can be scary! You may prefer to watch the (in)RL videos from home with your three best friends, or in the church basement with a couple other ladies and all your kiddos. Or perhaps heading to a big gathering with lots of new people to meet IS your thing. No matter what, it's okay!
(in)RL was created with YOU in mind – whether your idea of community is coffee with one or cupcakes with dozens. We're praying that somewhere near your home, an (in)RL meetup is being planned that will meet you exactly where you are. Hundreds of meetups have already been started – most of them cozy gatherings with a handful of women who are probably just as nervous as you are.
Go check out the map. Is a meetup already scheduled in your town?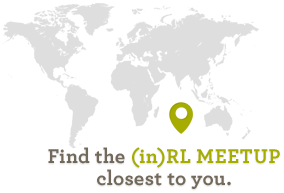 Yes? Great! Join it today!
No? How about starting one?
Both of these steps will take courage. But it will be SO worth it!!
If you've decided to host a meetup, congratulations! You are going to have So. Much. Fun!! And because we love you so much, we've got some great resources for you.

Invite your friends with the Save the Date downloadable card.
Enjoy planning your event with the great tips in our Helping Hosting Ideas list.
Plan your weekend's schedule and discussions by printing our (in)RL Agenda and Video Handouts.
We CAN'T WAIT to "see" you at this year's (in)RL. Join a meetup now for your chance to win one of 50 sets of Lisa Leonard's ((together)) necklace and the (in)RL Words of Community print!
To see all the (in)RL meetups happening worldwide on Saturday, April 27. Click Here »
Want to know more about how the (in)RL meetups work? Click Here »
Not registered yet for (in)RL? Click Here »
This giveaway will only last for 24 hours. Winners will be randomly chosen from anyone who has joined a meetup by the close of the giveaway. (So what are you waiting for? Join a meetup!)
ABOUT INCOURAGE
Home for the hearts of women, where you're always welcome just as you are. So kick off your shoes, put your sandy feet on the coffee table, and let's visit long and late and listen for God's voice...