Imagine you walk through the door, look around, take it all in, and feel the tensions of the day start to roll off your shoulders in little waves. All these girlfriends waving you in with words of welcome.
You ask, "How did you find this place?" We look at each other, smile, pat the sofa and say, "Get comfy and we'll share the secrets with you."
Stretching back almost five years, our personal journeys rolled out the beginning of The Architect's blueprints.
DaySpring, the Christian subsidiary of Hallmark Cards, Inc., has always sought to connect people with the heart of God. More than five years ago, a talented team of individuals decided to extend that vision to an online community of women.
Over coffee, lunches, and conversations in the hall we realized we carried the same dream inside. This vision was to create a new home for the hearts of women. So we met, prayed, talked until long after the work day ended. We all realized this was more than a project—it was a passion. So, with virtual hammers in hand, we started construction—all the time keeping you in the forefront of our minds.
(in)courage was designed to be a new home for the hearts of women. Our name represents DaySpring's goal of bringing women into deeper community with Christ and with one another. The (in) means that we are in Christ, connected, and in community with each other. From all of this comes true courage.
(in)courage is a little bit like your favorite beach house. It's that place where you can put your sandy, dirty feet on the coffee table, laugh late into the night with your girlfriends and learn to hear God's voice through our shared, broken, and beautifully redeemed stories.
It's the place where you're always welcome, just the way you are.
We knew always this house didn't belong to us—it was God's house and we hostesses. We felt called to be real, authentic, brave women for the Kingdom and wanted to connect with other women who did as well.
We asked God to build a team to partner with us and He answered that prayer with over thirty amazing women and a behind-the-scenes team that you'll love getting to know here too. We completed construction, invited everyone over, and the response has been amazing.
We've said from the start the beach house isn't ours. It belongs to God and we're its caretakers. In the first year, we built it, started decorating, moved in, overcame obstacles, got settled, and shared it with our friends. Now we have the opportunity to do some new things and really turn it into God's dream house. The best is yet to be!
And you're at the heart of it all, now and always.
Throughout this conversation on the couch we'd laugh, tell stories, maybe even get a little sentimental recalling some of the many "God moments" along the way.
Most of all, we'd want you to know that in answer to your question, we didn't find this place…it found us. In so many ways, for so many reasons, and we will never be the same.

Then we'd smile, hand you a key, and say, "Welcome home."
Our History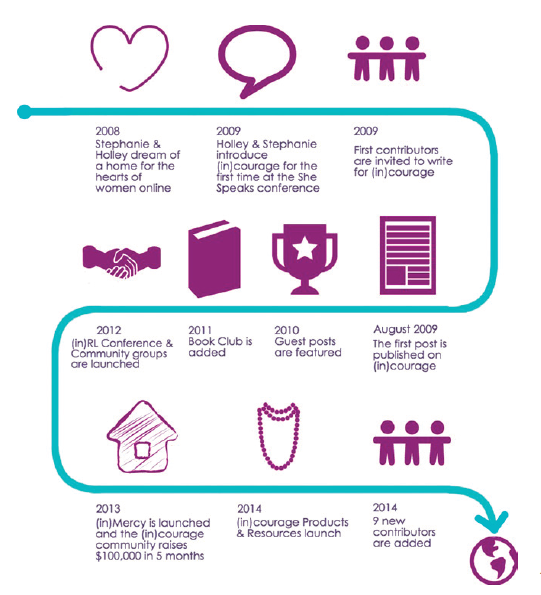 (in) Real Life Web Conference and Meetup Day:
2012 – 2014 :: Derived from the social media acronym "IRL" or "in real life," (in)RL was one of the first virtual conferences of its kind combining online learning with real life meetups. Instead of asking women to travel to us, we brought all the content to them through webcast content and local meetups. You can purchase past (in)RL content here or view some of the videos here.
Online Community Groups:
2012 – 2014 :: We believe friendship can transcend time zones, cultures and blog comment boxes – and out of that the vision for (in)couragers' community groups was born. Launched in the fall of 2012, thousands of women have come together with like-hearted sisters-in-Christ, doing life together in online communities where they are encouraged, heard, and supported by new friends around the world. Look for new ways to connect with the community in Fall 2015!