Photo by Woodley Wonderworks
"Mom, can I watch a movie?"
This is how I woke up this morning. A cute little four-year-old face, inches away from mine, asking to be entertained by major Hollywood corporations.
I don't have a problem with TV or movies — we watch them occasionally. But I believe that they are FAR too often used as the default choice of leisure time for children. They can easily suck away imagination, energy, and the innocence of our kids, and a few hours of distraction just isn't worth that, in my opinion.
But during these dog days of summer, it's also hard to shoo your kids outside — at least if you live in a climate like ours, where the norm is 100+ degrees fahrenheit daily. Unfortunately, it's just not safe to let kids sweat in this brutal heat for hours at a time.
So what's a parent to do? Not much. But there's plenty that children can do indoors on their own — without touching a remote. Here are a few ideas.
1. Read a Book
This is a go-to favorite in our family. Our library is right in our living room, available for access any time of day. Our kids know they can pull a book off the shelves at any time and enjoy, even though they can't read on their own yet. And don't forget about your public library.
2. Write a book.

Photo by nd.strupler
Even if your kids aren't writing fluently yet, they can still compose literature on their own. Create a collection of blank books, and let your kids illustrate a story. Later, you can write the words for them as they dictate them to you, or they can sound out the words phonetically and write the story on their own. These books will make great keepsakes later.
3. Act out a book.
Does your child have a perennial favorite book? Have her act it out — the plot may take a unique turn, all her own. While I was making breakfast, my daughter said, "Mom, right now I'm going on a walk at half past nine."
4. Listen to a book.
Audible Kids has a great selection of quality literature for children. Download a few to your mp3 player, and either give your child some headphones, or play the book over speakers while they play quietly.
5. Make an indoor clubhouse.
Corey wrote a great column on how to build a blanket fort. Get your child started, and see how else they architect a little place of their own.
6. Perform a puppet show or play.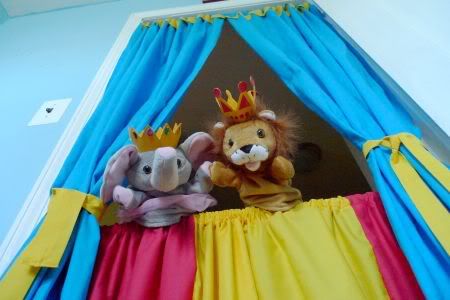 Photo from Make and Takes
Hopefully you have a collection of hand-me-down clothes and thrift store finds in a dress-up box for your kids. They can use these to create costumes for a play, with you as the audience. Or they can let their stuffed animals star as puppets, and hide behind the couch for a dramatic reenactment starring their pretend friends.
You can also make a simple puppet show theater with a spring-loaded curtain rod and a piece of fabric in a doorway.
7. Have an indoor picnic or tea party.
Lay out an outdoor tablecloth on the floor, and enjoy lunch together down there. Kids think it's a big treat to do the everyday in a special place, and the floor is one of those places. Or brew up some warm tea (my daughter's favorite is blackberry), and have a little tea time in cups with saucers, alongside crackers or sweet bread for an afternoon treat. This is best done during baby's naptime.
8. Make homemade play-doh.
Play-doh made from scratch is incredibly easy, and you can make an endless array of colors with basic food dye. Plus, it doesn't have that awful commercial-brand smell. Spread the outdoor tablecloth on the floor, and give them dull knives, a rolling pin, and some cookie cutters.
9. Help with chores.
Many younger kids think it's a blast to help Mom with the chores — but even if they don't think it's fun, it's good for them to do chores anyway. It teaches kids that running the house is a family effort, and that life involves work (and things we don't always enjoy doing). I've recently updated our family's preschool chore chart on the downloads page.
10. Save up those TP rolls and wad up your socks.
Arrange TP rolls like bowling pins on one end of the hall. Stock up a few balled-up socks on the other. Bowl or throw at the "pins," and you've got an indoor bowling alley. There's tons of other crafts you can do with toilet paper rolls, too.
11. Get your groove on.
Even the parent can benefit from this little break in the day. Crank up the peppy music and get dancing. Even 10 minutes of jiving with release some wiggles, and it's a stress relief for you, too. I like finding new adult and kid-friendly music at Kids Music That Rocks.
12. Craft, craft, craft.

Photo by laffy4k
In our family, we draw or create near daily. Keep a well-organized art cabinet handy, and your children can grab supplies whenever their muse strikes. If they want to paint, simply use that handy outdoor tablecloth again, and spread it on the kitchen floor. This is another baby's-taking-a-nap activity.
13. Write a letter to a friend.
Old-fashioned letter writing is a dying art, what with e-mail being today's communication method of choice. Help your child write a letter to Grandma, her cousins, or a friend, and make someone's day when they open their mailbox a few days later.
14. Have a simple playdate.
Invite your child's good friend over — this often makes for an even easier day, because your kiddo has a playmate instead of asking you to play all the time. It depends on the age and the particular friend, of course, but I've found that when my daughter has a friend over, I don't see her for hours. They're engulfed in their own little world in the playroom, content with each other's company.
15. Play shop.
Create different shop kits from thrift store and sale finds. The next time you're at a craft store, pick up some fake flowers on clearance. Make some homemade plant labels, save some empty seed packets, and hang on to those temporary pots from store-bought plants — all these supplies will make great tools for a flower shop at home. A notepad, pencil, apron, tray, and play food are all you need to play restaurant at the dining room table.
16. Rearrange the bedroom.
If your child is old enough to safely move small furniture around, let him explore his creative side and rearrange his bedroom. Depending on the result, it could be an afternoon set up, or it could be a new permanent look.
17. Supply some cardboard boxes.

Photo from ehow
If you haven't recently moved or purchased a new appliance, go to your local grocery store and see if they have any cardboard boxes you could take off their hands. Bring a few home, and let your child's imagination take over. They might build a castle, take off on a spaceship, or go sailing to a new world.
18. Go on a treasure hunt.
Think of some unusual spots around your house, or plant some treasures in rooms and on shelves (in an age-appropriate location, of course). Then make a list of objects, and have your child go on a treasure hunt. If they can't yet read, draw a sketch of the hidden item.
19. Have them help with batch cooking.
Do you have a batch cooking day planned? If they're old enough to stir, sift, and pour, let them help you with the basics — pasta and pizza sauces, muffins, and breads are all kid-friendly. And it's a good chance to teach about numbers, fractions, nutrition, and providing for the family.
20. Nothing.

Photo by yours truly
Boredom is good for kids. Children are seldom truly bored, they just haven't lately exercised that part of the brain that requires them to use their imagination. Make a rule that if your kid announces they're bored, they'll have to do chores. So if they truly can't think of anything off-hand to do… eventually, they'll think of something.
It's a good lesson to learn that life is not always entertaining, and that they're not the center of attention. And if you've got a typical home, there's actually plenty they can do. So don't feel like you always have to provide options and events for your children. They'll be just fine exercising their brain.
What's your go-to indoor activity with your kids?
Leave a Comment