We're spending 5 weeks chatting on the sofa over hot tea, cookies, and 5 questions about in real life friendship. Won't you join us?
09/04 Week 1: "What does community mean to you?"
09/18 Week 3: "How do we forgive past hurt by community?"

09/25 Week 4: "How do we build local community: some practical ideas."
10/02 Week 5: "How do we build community right where we are, not letting circumstances limit our connections?"
Every Friday we'll invite you to share your thoughts – link up a post, share a comment, discuss on Facebook.
We loved hearing your thoughts last week on how to come out of hiding and connect with community. Congrats to Brooke who won the (in)courage (in)RL T-Shirt for the post she linked up – here's a peek – you should really go and read it:
He has given me community in a way I could have never imagined just a few years ago. He has nudged me to step out of my comfort zone, beyond the fear and risk rejection. He has encouraged me to join small groups, to volunteer with new people, to try something totally new, to take that promotion. In return, He's amazed me with how He continues to shape and change me.

And the only way to step out of your comfort zone is to lean on and rely on Him, the One you know will never reject you.

We're looking forward to hearing from you guys and blessing at least one of you each week with some of our (in)RL resources.
So, this week we're discussing how to forgive past hurt by community.
Let's not even try to pretend it's easy. Or that we should simply press through, or shake it off, or "let it slide." Perhaps, if we can just allow ourselves to set aside those silly notions, we can get to the other side in one piece. Because being hurt hurts. Plain and simple.
Here's the thing: there are no perfect people. Not even in community.
We— the imperfect — worship together, and we serve together. We share recipes and grocery shopping tips. We help each other move, and we pick up each other's children from school. We share our dreams and we confess our failures. We bake and deliver casseroles, and we wait and pray with each other in hospital emergency rooms.
It is a beautiful thing.
Until it isn't.
A few years ago, I got my heart broken, right in the middle of community. I don't think there are many hurts worse than the ones we receive in community, and I don't wish it on you. I don't wish it on anyone. Most of the time, these hurts catch us completely off guard. I think it would be a beautiful thing if no one ever had to know a hurt like that. After all, community is all about love. Right?
Even when we're at our best, hurting one another is inevitable. Because we're not perfect. And here's the subtle danger in being hurt: letting my hurt feelings keep me from ever living in community again. I can build a wall around myself and keep you at arm's length and I can do life on my own, thank you very much.
But then, what I am supposed to do with this…
You can develop a healthy, robust community that lives right with God and enjoy its results only if you do the hard work of getting along with each other, treating each other with dignity and honor. ~James 3:18, MSG (emphasis mine).
This is more than building a wall, pressing through, shaking it off, or letting it slide. No, those are the easy options. The hard work is staying engaged, admitting where it hurts, offering the gift of a sincere apology when necessary, and — when we're ready — offering forgiveness.
It's true that sometimes things get more than simply messy, and then it may be time to step away. But when we're just bumping up against each other in the day-to-day of life together, accepting the challenge to stay is often the greatest gift we can offer one another.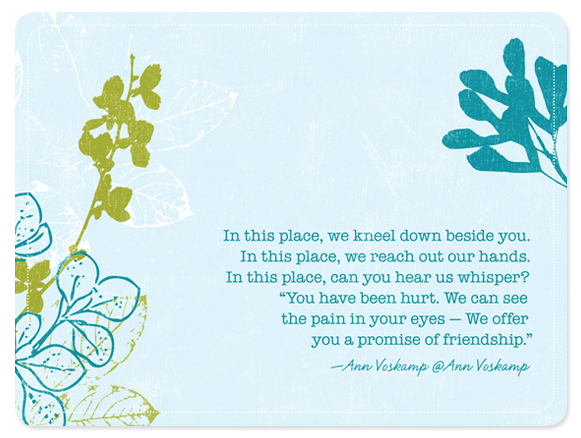 Yeah. Let's not even try to pretend it's easy. Community isn't always easy.
But it's worth it. Community is definitely worth it.
By Deidra Riggs
Image by Dawn Camp
Free Printable: Just CLICK HERE to download a free 8.5 x 11 printable version of the above quote on friendship.
It's this week's free (in)RL Check-In Printable – featuring copy and art from a postcard in the our new Postcards from God's Beach House, Friendship Set.
{The downloadable print is available through DaySpring.com. This is a free download and your credit card information will not be requested. You'll receive a link to the Printable in your confirmation email. Easy. Free. And Fun.}
Leave a Comment