I am getting old.
Before you roll your eyes, it's true.  It's happening to all of us, one day at a time.
I remember wanting to be older in my twenties. I wanted to be seen as an adult. I rushed through those years, always wanting more.
My 30's have been glorious. I felt good in my skin and accidentally discovered chasing your dreams is a good beauty regimen. I stopped hiding from mirrors and put the spanx away. My laugh lines look more like winkles and my "baby" who left me with a thicker middle is now reading.
The gray is coming in strong now, wild.
This is it.
But my 40's are next, just one page away on the calendar. I can feel myself aging. I see the proof. And some days, I have a hard time embracing getting older.
I found out last week that my husband told someone I was getting "hotter with age." I made him repeat it three times. Hungry for his words because I'm still trying to convince myself that I'm aging gracefully. [I feel the same about him. The stray grays are distinguishing and his confident stance is sexy. Maybe we both just know we are stuck with each other until death and are living it up in our old age. Whatever. I'll take it.]
He said someone he worked with wanted picture proof of this aging beauty. He said he showed them a picture. "Which one?" I asked slightly horrified.
He pulled out his phone and showed them a picture from this summer in Kenya.
The one picture he has where I haven't showered in 3 days. Awesome. Without makeup or pretense or a blow dryer, this is the picture he shows people who want to meet his wife: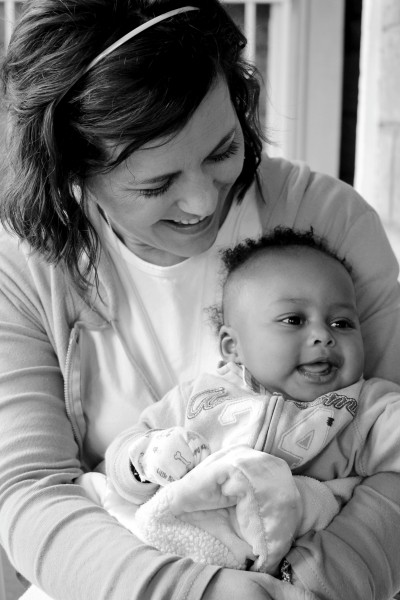 I was a bit mortified and he said, "Are you getting older? Yes. But as you age and live in joy, you just become more beautiful."
Why is this so hard for me to hear and believe?
I think I would have had him pull out my Glamour Shots from 15 years ago. I was reminded of a simple truth in that moment, one I often forget when I'm busy focusing on the outside. True beauty is found inside. When we are working on who we are there, it is reflected on the outside. And that's what he sees in that photo.
But I'm old enough to know the danger of putting my esteem in the hands of a man (even a good one). I have to believe that even though I'm constantly changing, I am the daughter of the One who never changes. His affection for me is pure, untainted by sin; He loves all of me very well.
You, with the baby on your hip and spit up on your shirt, you are beautiful. Grandma, with the white head of glory, there is grace in the aging. I'm in the middle of these and I'm looking for it.
You should too.
How to age gracefully:

See yourself as He sees you
Live Scared-chase God's big dream
Find someone younger to mentor
Encourage the woman who reminds you of yourself 10 years ago
Embrace your appearance as it changes
We are beautiful on the inside and out when we acknowledge Christ's deep and abiding love for us. Love that doesn't change with our accomplishments or appearance. It's always, always there -accepting us exactly for who we are or aren't.
Written by Kristen Welch, We are THAT family
Leave a Comment