I'm Holley Gerth–God-sized dreamer, cofounder of (in)courage, life coach and a friend who cheers wildly for you and all God has created you to do. I'm so glad I get to be here with you this week on Bloom. I wish we could have coffee so let's make this the next best thing. XO


***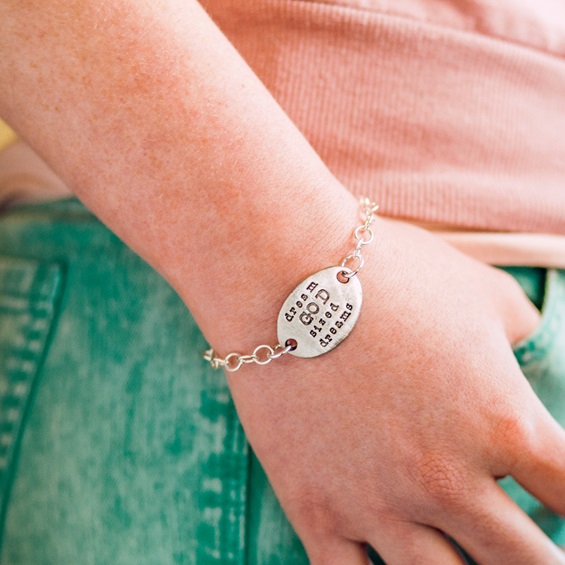 We started our journey together on Monday talking about how we all long for more in our lives. Finding it seems like something mysterious. We wait for "more" to come to us. But here's the reality: most of the time we discover it along the way as we're saying "yes" to God.
The "more" we long for isn't something we can produce—instead it's something we receive. It's not found inside our comfort zones but instead just beyond them in the wild and glorious adventures God invites us to take with him.
You won't find "more" on your couch.
You won't find it in long hours at the office.
You won't find it in the new car parked in the driveway.
You won't even find it in your friends and family.
You'll only find it in the arms of Jesus.
Behind every "more" we dream of, he is what our hearts really want most. And they will never be satisfied with settling for anything less.
Consider the God-sized dreams in your heart as invitations to a fuller life. A life with more joy, passion, and growth. A life that makes you rejoice on the good days and push through the hard days because you know it's worth it.
You only get one shot at this world. And we only get one you. Make the most of your time here. Dare to dream. Dare to do. Dare to find out just how much God has in store for you.
I've loved sharing this journey with you. I wish we could end with a real life conversation. I'd ask you all about what your heart has heard and your God-sized dream. I'd lean in and let you tell me all about it. I'd smile, nod and cheer you on through every word.
Before we left, I would pray for you too.
And until we get to have that face-to-face chat here or in heaven, I'm going to pray for you anyway…starting right now, right here as I type these words.
Lord,
Thank you for the one who is on this page right now. You know her name, her needs, her dreams. I thank you that she is a woman of faith and courage—a Joshua or Caleb in her generation. I thank you that even though she may feel some fear, she is saying "yes" to what you have placed in her heart to do.
As she goes about her day, I pray that you would continue the work that you've started here. Guide her into the next step of her journey with you. Show her more of what you have in store for her. Provide what she needs all along the way.
I'm so glad you're with her the way I wish I could be today. Give her heart a hug for me. Help her with her dream. Thank you that it's going to change the world, her life and eternity too.
Amen.
As we walked out the door of that little café where we had coffee I'd say the four words we use in the South, when we're feeling happy and want to encourage someone. Yes, here's a little send-off just for you…
"Go get 'em, friend!"
–Holley Gerth, You're Made for a God-sized Dream
Purchase your copy from DaySpring here. You'll even find a collection of gift items inspired by the book here. The Lisa Leonard Bracelet above can be found here.
Leave a Comment