The end of August is the New Year's Day of summer.
Even before I had children, and I'm guessing even after they are all done with school, the end of August will trigger thoughts of fresh starts.
It's a great time to consider what I'm doing at home (or anywhere) and evaluate the whys. I used to always trip over the idea of a very organized routine. I'd print out time sheets and fill up a shiny new binder with high intentions of Finally Getting My Life Together. Especially in the areas of meals and household chores. I thought I wanted to be one of those people who did their laundry starting every Thursday at 10:30 am. I've heard people like that exist.
But then something would come up at Thursday at 10 am and suddenly, my binder and I would have a fight (I always won) – and I'd secretly feel guilty for not following my own rules.
Here are my own, non-scientific definitions of routine and rhythm:
Routine: something cheerleaders did when I was in high school to 90s dance music. It had predetermined, robotic movements and it was either correct or incorrect, and it was obvious if you messed up. Routine focuses on rules and doesn't like to be changed.

Rhythm: a frame of mind that suggests more of an art. If you have rhythm, then whatever you decide to do with intention fits in the dance. Rhythm feels like choice and nuance and paying attention to your surroundings. Rhythm is alive and open to adjustments based on the circumstance. Rhythm focuses on needs.
At home, I can guilt myself over not having perfectly planned healthy meals, a chore chart, or daily assigned house cleaning. Nothing is wrong with that, but it's possible to survive beautifully in a house where the laundry doesn't get done on the same day every week. Imagine that.
Routine isn't the bad guy. I use routine when I brush my teeth/floss/rinse in that order. I don't even have to think about it and it serves me well. Routine has its place. And it looks different in every life.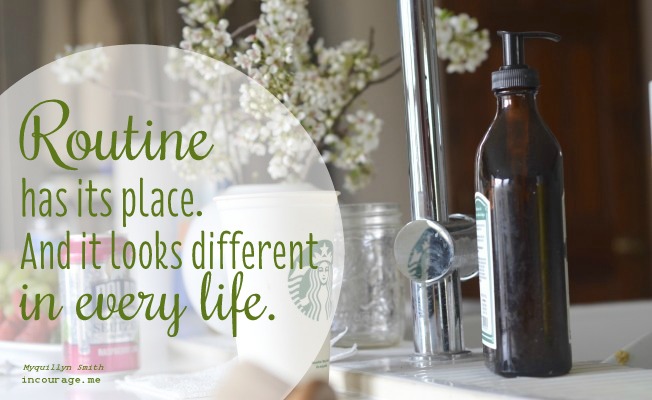 The week is easier for me when I have at least two predetermined meals planned. I always try to be prepared for Pizza Friday and Taco Tuesday — for my own sanity. I see my two planned meals a week as more of a rhythm than a routine, because I can always change it if I want. Where I get into trouble with pre-planning my meals is when things change and I get all worked up over changing my precious plan. Suddenly it turns into a routine that's the boss of me.
Sometimes when I struggle with feeling guilty about something at home, I realize I'm trying to force a strict routine instead of falling into a healthy, welcoming rhythm.
Where do you use rhythm and routine in your everyday life?
 "…Get away with me and you'll recover your life. I'll show you how to take a real rest. Walk with me and work with me—watch how I do it. Learn the unforced rhythms of grace. I won't lay anything heavy or ill-fitting on you. Keep company with me and you'll learn to live freely and lightly."

Matthew 11:28-30 (MSG)
Leave a Comment