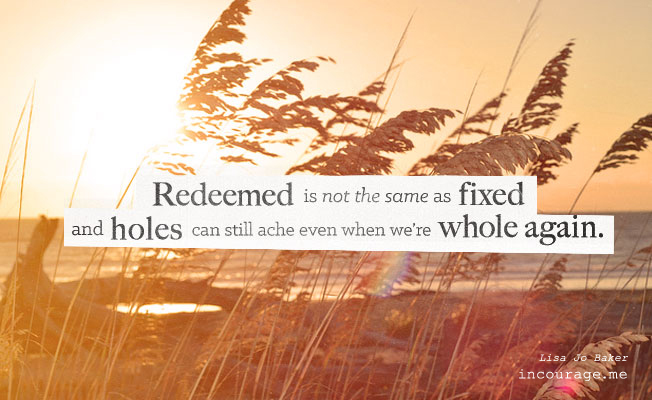 Maybe you're dying a little bit on your insides?
Every day. Every Monday and Tuesday there are little pieces of your soul crumbling and crying and dying.
Amazing grace! how sweet the sound,
  That saved a wretch; like me!
Maybe you're over there between the loads of laundry and you think you're dying of all this mundane rut of a routine?
I once was lost, but now am found,
  Was blind, but now I see.
Maybe it's the commuter lane at rush hour that's got you bent over the steering wheel thinking this is it — I just can't do this anymore. I'm no one's rat, and I just can't take this mind-numbing race anymore.
Maybe it's your cubicle that's got you slowly feeling all the life drain right out of you.
Maybe the leftover dishes feel like all your left over life that you've been missing — gritty and gross and hard to clean.  
Maybe your daughter has leukemia and your heart really is dying with every day you lie next to her on a hospital bed — there's the doubt that you'll ever survive losing her. And it's real. That kind of broken heart.
Maybe your mom died when she turned 42 and you're only two years shy of her age and you start wondering what you'd do with those last two years. How would you spend them? Surely not on all these episodes of Master Chef you can't seem to stop watching.
'Twas grace that taught my heart to fear,
  And grace my fears relieved;
Maybe it's your marriage that has died, all those wedding vows crumbled like old plaster into dust gathering in photo albums — pictures of people you don't even recognize anymore.
Maybe it's your son you haven't seen in a month, who's stopped returning your calls, stopped talking to you, stopped letting you into the nooks and crannies of his life. That beautiful life that used to be yours to rock and hold and soothe and whisper midnight prayers over bad dreams. That life won't look you in the eye anymore and it feels like you lost an arm, losing contact with that son.
How precious did that grace appear
  The hour I first believed!
Maybe your insides hurt so bad you're amazed no one notices. Because a Hello Kitty bandaid can't possibly hold back the bleeding from a broken soul.
And maybe your soul is bloody and messy and desperately lonely.
Maybe we need to remind you that you're not alone.
Because if what we believe about faith is true then there's a love promise that we are all one body. And if one part aches, so does the rest of the body.
If one part bleeds, the whole body suffers that blood loss.
If one part is dying, the body must face death. Or fight it. 
We want to fight with you. We want to fight for you. 
The Lord hath promised good to me,
  His word my hope secures;
He will my shield and portion be
  As long as life endures.
And I've lived enough broken and loved enough friends through their own cracks to know that redeemed is not the same as fixed and that holes can still ache even when we're whole again. Death, divorce, loss, heartbreak — admitting them doesn't make us immune. Or cancel the loss. Or restore the missing.
But sometimes saying it out loud is an invitation to the God who already knows to lay Himself down in our rips and tears and hold us together — often through the arms of our friends. The people who've heard us whisper, "I'm not fine."
Because Jesus is in the business of making all things new.
Not perfect. Not like they used to be. But new. Third day after the grave kind of new. Resurrection new.
So, it's time to be brave now. It's time to tell someone how you feel.
It's time to let someone into your secret insides.
Because while it can be excruciating to admit our un-fine moments, it's in those moments that people can actually GET to us to help us. We need people. We are a body. And if one part is all bashed up and bleeding, it hurts everywhere else.
Friendship with skin on will let you down. It will likely hurt you sometimes. But it will also laugh with you, not at you, over the everyday bits and pieces that make us real. Unmade beds, broken deadlines, dark secrets, random diaper genies outside our front doors and all.
Amazing love, how can it be?
That You, my King. would die for me
Amazing love, I know it's true
It's my joy to honor You
Amazing love how can it be?
That my King would die for me
Amazing love I know it's true
It's my joy to honor You
It's our joy to love you.
It's our honor to bear witness to your brokenness.
It's our calling to sit down beside you as you crumple over there in the valley of the shadow of death. We will wait with you. We will bear witness to your sorrow. 
Today you are not alone.
Can you see all these sisters sitting around you? Give us your sorrow and let us carry it for you today.
If you leave your pain in the comments today we will hold it today — we will lift it off your shoulders so you can catch your breath today. 
Beloved.
If your heart is broken, you'll find God right there;
if you're kicked in the gut, he'll help you catch your breath.

~Psalm 34:18 (The Message).
[linebreak]
Share on Twitter:
Redeemed is not the same as fixed, and holes can still ache even when we're whole again. {Tweet this!}
Leave a Comment