My girlfriend was in town for a short visit with her family, and I wanted our lunch to be perfect. Our time together was precious to me, and I intended to make the most of it. I arrived at one of my favorite lunch spots a few minutes early to make sure we had just the right place to talk. I snagged a table by the window, ordered my salad and lemon cookie, and settled in to wait.
I began thinking about what I should share and how deep I should go in our limited time together. My husband had recently been released from the hospital, and we were trying to figure out how to return to some sort of normal life for our family of six. I knew my friend would be coming with her own story of loss and grief, and I wondered how I could share without adding to the burdens she was already carrying.
In the middle of my thoughts, I saw her walk through the doors. We hugged, and she ordered her lunch. To say I was grateful we were able to get a lunch date on the calendar would be an understatement. She was a brand-new mom and on a tight schedule. I was glad to simply sit at the same table with her, finding comfort even in the silences between our sentences. God had woven our lives together in extraordinary ways over the last couple of years as we each went through our share of heartache. It had been as though we were volleying support back and forth across an invisible tennis net. When she struggled, I was there for her, and vice versa. We had been stretched thin, and we were both now threadbare.
We quickly got through our meal, covering all the easy subjects before we dove into the hard ones. Eventually, I asked her pointedly, "How are you doing — really doing?" She paused as if searching for the right words and looked down at her hands before making eye contact with me.
"I'm not sure. This trial just felt so . . . personal."
I understood exactly what she meant. Sometimes, trials feel as though they were tailor-made in such specific ways to cause us pain.
I exhaled and said, "I'm sorry. Maybe it feels personal because it just is."
Since that day, her words have often come to mind, and I've gotten more honest with the Lord, telling Him that my trials feel personal and asking Him to help me make sense of it. And bit by bit, He has been taking my threadbare heart and doing that very thing. I offer Him my pain and confusion, my disappointment and worry, and He offers me comfort and hope through, what I call, Threadbare Prayers. These are prayers For the days when we most desperately need prayer but don't have the words to form them, #threadbareprayerbook is the guide you need. Enter to win a copy!
That day, after our too-quick lunch date, I asked my friend to give me a verse so I could write a personal Threadbare Prayer especially for her. She shared with me Psalm 3:3:
But you, O Lord, are a shield about me, my glory, and the lifter of my head.
And this is the prayer I wrote for her:
Lord, it wasn't the first sign of trials that sent me headlong into a pit. But it was the second, fourth, fifth rounds that have greatly discouraged me. Still, I find deep encouragement in knowing that when I come to the end of myself, You are not exhausted. Instead, I can face the enemy, my fears, any trial that comes my way because You wrap me up in Your embrace and provide abundantly in Your presence. You lift my eyes upward, and I know on my worst days and in my fiercest battles that I can cry out to You. I can rest easy knowing that the battle belongs to You.
And for the days when my friend finds herself lacking words to pray, I gave her this Threadbare Prayer: Lord, You wrap me up safe.
A simple prayer can carry us through hard days and seasons. Perhaps you're in a place where you've also come to the end of yourself and need help to pray. Take this Threadbare Prayer then too, and may it remind you that you are embraced, held up by the loving arms of God.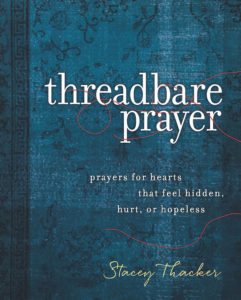 In Threadbare Prayer: Prayers for Hearts that Feel Hidden, Hurt, or Hopeless, Stacey Thacker presents 100 simple yet heartfelt devotions to guide you on the days you don't know what to pray. Each entry in this attractive, gift-worthy devotional contains a Bible verse, a brief thought, and a simple, concise prayer to encourage the reader's heart.
If you purchase two copies of Threadbare Prayer, Stacey will send you the companion five-day Bible study, The Mender: A Bible Study for Threadbare Hearts. To receive the study, complete this form (Offer ends November 30, 2020).
We know it's been a very threadbare year for many, so we want to give away FIVE copies of Threadbare Prayer to five of you! Comment below with a verse that you've been holding onto in this season for a chance to win.
Giveaway closes October 9 at 11:59pm CST. Open to US addresses only.
Leave a Comment