Dear friends, we are God's children now, and what we will be has not yet been revealed. We know that when he appears, we will be like him because we will see him as he is. And everyone who has this hope in him purifies himself just as he is pure.
1 John 3:2-3 (CSB)
A few weeks ago, I noticed a house in our neighborhood that was falling apart. More than a cracked driveway or peeling paint, this was major disintegration at a rapid rate. And I was super annoyed to see it.
As I drove by that first day, I felt my nose wrinkle and my lip curl in disgust. I assumed that the house in question was simply being neglected, although perhaps it had been completely abandoned. Either way, the lack of attention and care being given the home bothered me — enough that I actually drove a block out of my way to avoid seeing it.
Over the next few days, I realized that someone was actually rehabbing this house. The tearing down was intentional, and a building up was surely coming soon. Strangely enough, that wasn't enough for this judgmental neighbor. Even though I knew this house was in the process of transformation, I still felt my lip curl as I glanced toward the siding-less house with the overgrown weeds. I did think, with some curiosity, Huh. So that's what a house looks like under siding. But my response to that thought was immediate and dismissive: Gross.
I know myself. When the work on that house is finished, I'll be genuinely delighted. On the day I drive by and see a brand new, beautiful house standing where a pile of wood stood just a few weeks prior, I will be genuinely impressed by my neighbor's hard work and commitment to improving their home.
And yet, while I know I can only truly appreciate the "after" picture in comparison to the "before" shot, I really did not want to witness the in-between. And though I say that I appreciate a homeowner's labor of love involved in rehabbing a house, the truth is, I didn't actually want to see the mess or sweat or tears involved.
Transformation — whether we're talking about a house or a heart — is not a pretty process. True rehabilitation, true change, only happens when the old, crumbling, moldy, and rusty parts are stripped away, revealing the naked truth underneath. It's only when we are elbow deep in mud and muck that we can see the strong, shining bones below on which we can build something beautiful.
Even during seasons of reflection and repentance, we can be tempted to put too much emphasis on the "after" part of a transformation. Sure, everyone loves gasping and applauding at the big reveal at the end of a home improvement show. And it is absolutely inspiring to read about someone's triumph over adversity.
But what about when that excavation and rehabilitation takes place in our hearts and our lives? When we are only willing to direct our gaze on the after pictures, we're missing the hard-fought beauty of that behind-the-scenes battle. We're missing out on the chance to more fully understand the sacrifice that led to the victory, to more completely appreciate the reward that only came as a result of the work. And we're missing the whole truth about who we are and how vast the gap between "before" and "after" truly is.
It took me a while, but I realize now that the day my neighbor's house was at its ugliest and messiest was actually the most amazing one of its entire transformation. Because without that day, I couldn't possibly appreciate its new siding and shutters and landscaping and front porch light. Unless I face the destruction, I can't understand the magnitude of the recreation.
This truth is no different when it comes to our journey to the cross during this Lent season. If I wait until I've "got it all together" to reveal my struggles, I'm robbing God of the opportunity to shine through my ugliness and my mess. I'm forgetting that He is the only one who can make me into a new creation, and He won't transform me until I lay myself bare before Him and let Him get to work.
When my house is falling apart, that is the time to open up to God and to others. Not later. Not when I get it figured out. Not when I've painted and polished and perfected it all. If I waited for that day, I'd never have a story to tell, for we are all in constant change, constant sharpening and growing and transforming. So when our houses are falling apart, that is the day we should look up, accept the Lord's help, and meet our neighbor's eyes. Doing this will undoubtedly help us be more patient, more gentle — with each other and with ourselves. And as we turn to the cross and the One who loves us at our ugliest and promises to redeem our worst messes, it will certainly reveal to us the true beauty of transformation.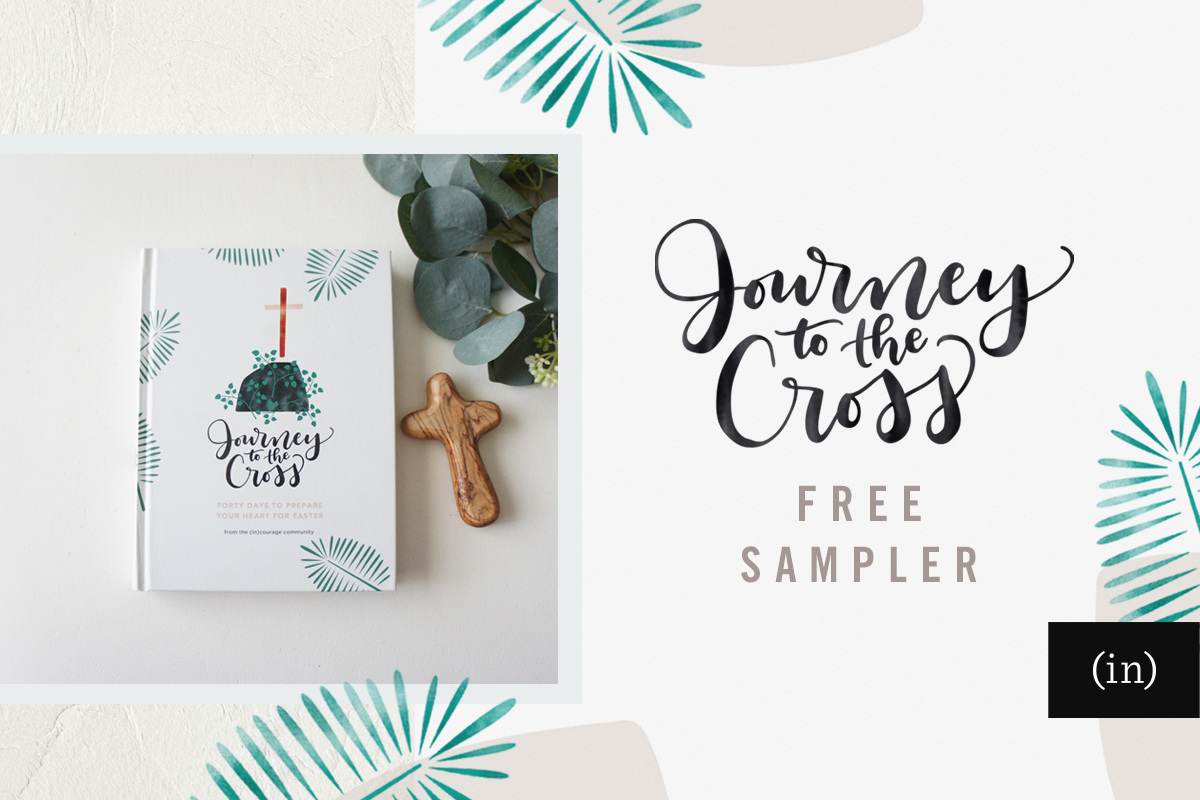 It's not too late to have a meaningful Lenten season. Let us send you a FREE sampler from our Lenten devotional, Journey to the Cross! Journey to the Cross: Forty Days to Prepare Your Heart for Easter was written with women of all stages in mind so that we can all better experience the power and wonder of Easter with intentionality and depth. We hope it will bless your Lenten season.
Leave a Comment