When people ask me, as they often do, "How did you break free from your painful past, your poor choices, your food addiction, your insecurities and guilt and regret?" my answer is, "I had to fight." I had to fight the lies I believed about myself. I had to saturate myself with God's truth to find a true replacement for the lies.
I know what it is like to feel worthless and to have word curses spoken over you. When I was in high school, an English teacher walked up to me in front of all of my classmates and said, "Sheri Rose, you were born to lose in life. You will never, ever amount to anything." At that moment, I traded my dreams and hopes for the future for a lie that kept me locked up for years.
Many of you reading this right now may have just recognized the root of the lie you've been living in. If you haven't, take a moment to think it through. Maybe it comes from hurtful words spoken to you by a father or mother, brother or sister, teacher, boyfriend or husband. Maybe it was a stranger who thoughtlessly felt like dumping lies on you. You see, that English teacher did not teach God's grammar lesson. His grammar lesson is, "Don't put a period where I have put a comma because I have a plan for every life I create."
In Jeremiah 29:11, God tells us He has plans for us — good plans. And while the hurtful words may not go away so easily, healing can happen in the heart and mind of a woman when she begins to let go of lies to embrace God's truth.
Many times the biggest battles we fight are the lies we believe and speak about ourselves. And as hard as it is to fight them, it is even harder to watch our daughters and granddaughters walk in the same lies we do. The reality is if we don't learn to walk in God's truth, we will leave a legacy of lies for our own children to battle.
Many of us have experienced spiritual identity theft. We've lost our confidence in who we are in Christ, and we feel worthless or wounded by someone's words. Others of us hold in our hearts a false identity. We believe a lie about ourselves, and that lie defines us.
You do not have to let others' hurtful words define you anymore. Those who spoke them did not give their lives, as Jesus did, to prove your worth. You are a treasured daughter of the King!
And you will know the truth, and the truth will set you free.
John 8:32 (NLT)
Jesus promises us that the truth will set us free. Where can we find this kind of truth? How can we get our identity back from the one who has stolen it from us? I don't know who broke your heart or struck you with lies, but I do know how to help you walk in the truth your soul is craving.
In John 10:10, God warns us that Satan wants only to kill, steal, and destroy us. The best way for Satan to accomplish his mission is to give us a false identity. Jesus gave His life to give you a new identity — the kind of identity that is carved so deeply on our hearts that it can never be erased by another person's hurtful words.
Embracing our Christ-given identity can only happen if you trade lies for truth. You need to renew your mind by speaking, reading, and believing who you are in Christ. I have learned that if we don't know our true identity, then we are vulnerable to allowing someone else to give us a false identity. If we are not submerged in God's truth, we will become victims of spiritual identity theft.
Whenever a lie is spoken to you or enters your mind, speak this phrase to yourself out loud: "That is a lie. The truth is . . ." Then say the truth out loud so your mind will hear your mouth. For example, if someone speaks a hurtful word to you, then say to yourself out loud, "That is a lie. The truth is my worth is not in what anyone else says about me. I will not allow someone's hurtful words to define me any longer."
Try a seven-day fast by not speaking anything negative about yourself or repeating any lies that have been spoken over you or about you. If possible, ask a friend to hold you accountable to speak only truth.
And finally, read the truth. Read the following Scriptures about how you are:
– Chosen by God (1 Peter 2:9)
– A new creation (2 Corinthians 5:17)
– Holy and pure (Ephesians 1:4)
– A trophy of His grace (Ephesians 2:8)
– His princess warrior (2 Timothy 4:7)
– His beloved bride (Psalm 45:11)
I am praying for you to experience God's blessings and breakthroughs as you fight against lies to live in truth.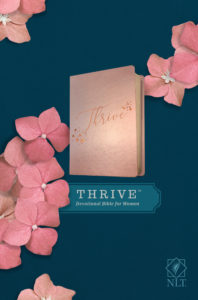 Tyndale's THRIVE Devotional Bible for Women has daily devotions and other special features written by Sheri Rose Shepherd to help women draw near to God through His Word. Available in both regular and wide-margin editions, The THRIVE Devotional Bible is for every woman to be reminded that they can live flourishing, fulfilling, joy-filled lives in Christ. Each day's devotional reading contains a key Scripture, a love letter from God, a reflection from Sheri Rose, and a special prayer for the reader. The THRIVE Devotional Bible for Women encourages you to leave all of your concerns and struggles at the foot of the cross so you can truly thrive as the woman God created you to be.
We love what the THRIVE Devotional Bible is about, so we're giving away FIVE copies [GIVEAWAY NOW CLOSED]! Tell us in the comments which of the four covers (THRIVE Devotional Bible covers) you'd choose from for a chance to win!
Leave a Comment