Not long after my husband and I got married and settled into our apartment in Chicago, we befriended a couple who had recently moved to the U.S. from Iran. The first time we met, we barely spoke because they didn't know much English and we didn't speak Farsi. In fact, the first time we went over to their apartment to hang out, conversation was still relatively sparse. We sat around a small television, watching a soccer game, and trying at times to make comments about anything — the game, church, school — but without much success. To be honest, after that first hangout, we hadn't covered much relational ground. The differences in our cultures and languages meant there were more moments of dissonance and confusion than true understanding.
As my husband and I drove back home, we remarked about how hard cross-cultural relationships can be. It's hard not to make deep connections right away. It's hard not to understand the other person, and it's just as hard to feel misunderstood. Sometimes, when we put ourselves out there, we make ourselves vulnerable to being hurt, rejected, sometimes even shamed. However, if we both hadn't persevered, we would have missed out on a rich and beautiful friendship.
Each subsequent time the four of us met up, we learned more about each other. Our new friends would teach us phrases in Farsi. When we went to their home, they would make us homemade Persian food. Likewise, when they came to our apartment, we would make either Indian or Mexican food. Eventually, we also met each other's friends. One evening over dinner we laughed until our sides hurt at the ways our mannerisms had begun to mimic each other. We'd spent so much time together that we had started to talk and act like each other too.
It takes a lot of work to connect across cultures. We could have easily quit and said, "This is too hard." It's easy to find excuses to let acquaintances or even friendships slide. We choose not to follow-up with another dinner invitation, or we don't call the other person back because the last interaction was awkward or even frustrating. Sometimes we blame busyness or scheduling conflicts. But real relationships that are deep and that lead to healing across cultures take time and energy. They are also costly because much is required of us.
I love the way the Apostle Paul puts it in 1 Corinthians 9:22 when he writes, "I have become all things to all people so that by all possible means I might save some." This has become a life verse for me and a guide to connecting across cultures. These words in Scripture are an invitation to grow, change, and adapt who we are to connect with the people around us. My husband and I persisted with our Persian friends because we valued them as people and genuinely wanted to be friends. More importantly, we were willing to change and adapt ourselves to each other for the sake of our relationship. As a result, this couple is now dear, life-long friends.
Becoming all things to all people is also the model of Jesus. Jesus came to this earth as a brown-skinned, first-century Jewish man. The eternal Son of God transformed Himself, despite pain and hardship, to meet us on our terms. He embraced another nature to become like those He loved and navigated different languages (Aramaic and Greek) as well as different sociopolitical contexts (Jewish and Roman). He adapted to human culture, acquired our customs, languages, and pains in order to care for, heal, save, and unite us. Salvation was His goal, but the first step in saving us was crossing into our world and meeting us where we lived.
Jesus invites all of us to go on a journey of becoming all things to all people. The word becoming is a process of coming to be something. It's a word that connotes change — changing who we are to connect with the people around us. To become all things to all people is not a code for appropriating or stealing other people's cultures. Becoming all things to all people is a posture that desires to see the world through other people's eyes, value what they value, and both center and honor their way of life. It's also a posture that requires humility and flexibility.
The journey of becoming all things will stretch us and make us uncomfortable at times. It won't be easy, but I promise it is worth it. No matter who we're seeking to connect with, we can take it slow, knowing that Jesus is with us every step of the way.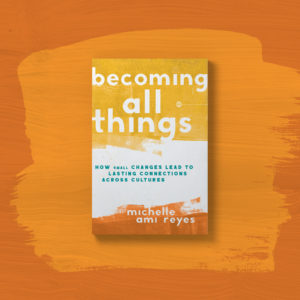 Cultural identities and cross-cultural engagement are not things that anyone can choose to ignore anymore, least of all Christians. Many of us want to have diverse friends and are passionate about justice. But if we are serious about cross-cultural relationships — real relationships that lead to understanding, healing and solidarity across cultural lines — we need to be willing to change. And that's not something that comes easy for any of us. In Becoming All Things: How Small Changes Lead to Lasting Connections Across Cultures, Michelle offers hope by showing what's possible when all of us are willing to try something new.
Click here to purchase a copy for yourself. And for an extra copy to give to a friend, tell us who you'd like to give it to in the comments below — we'll be choosing THREE winners!*
Then, tune in tomorrow, April 26th, at 1:00 pm CST on Facebook for a live conversation with Michelle Reyes and Becky Keife as they discuss this beautiful new book.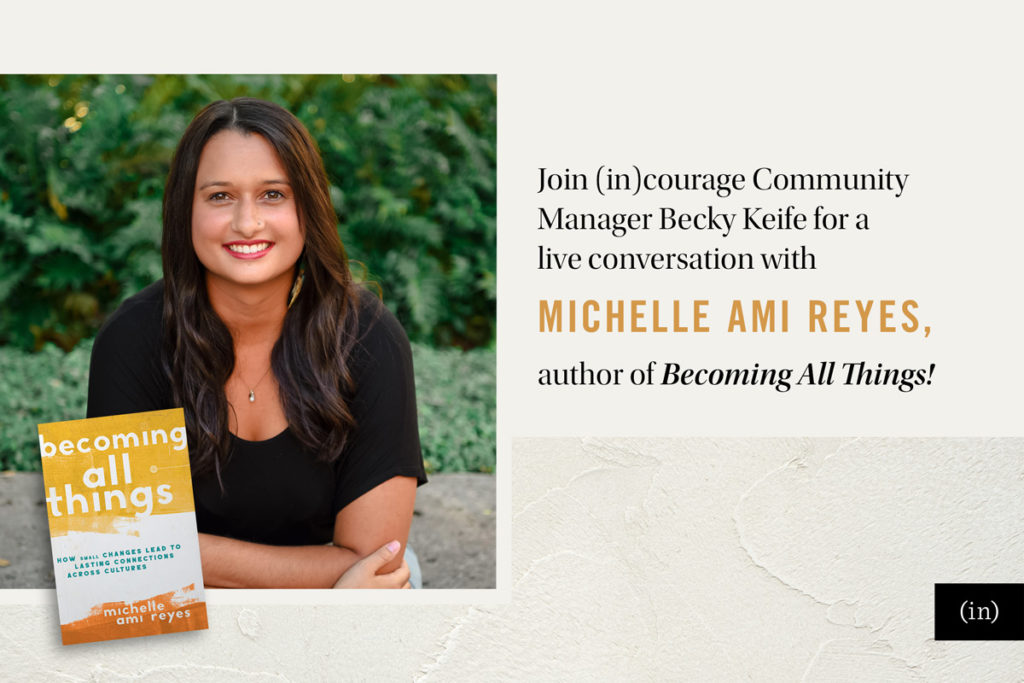 *Giveaway is open to US addresses only and will end at 11:59 pm CST on April 30, 2021.
Leave a Comment