Friends! Starting in just two weeks, join us for Bible Study Mondays! We're bringing an online study of Courageous Influence right here, to you, each week. It's our easiest-to-join online study ever, and we can't wait.
Simply join us each Monday here at incourage.me, starting August 2nd. We will spend six Mondays going through Courageous Influence: Embrace the Way God Made You For Impact, written by Grace P. Cho and featuring stories from (in)courage contributors. Courageous Influence is the book you'll need for the study!
We're tired of "influencers" telling us what we need to buy, look like, and be. In the Courageous Influence Bible Study, we turn the idea of influence upside down and consider the ways in which God calls us to live — with influence for and from Him.
If you've ever asked yourself . . .
Am I really a woman of influence? 
How can I push doubt aside and live out God's calling for my life?
What would it look like to show up fully as my own self in my places of influence?
. . . then you're going to want in on this Bible study!

Here's what you need to know about Bible Study Mondays:
1.  You will need a copy of Courageous Influence to get the most out of the study. We will provide the reading assignments, reflection questions, inspirational quotes, and video conversations along the way each Monday! Pick up a copy wherever books are sold (direct links to retailers here).
2.  Bible Study Mondays start August 2nd and will run for six weeks right here on our website. We will post the weeks reading assignments, reflection questions, and discussion videos. And friends, you especially won't want to miss the videos. Featuring (in)courage writers and friends Becky Keife, Grace P. Cho, and Kathi Lipp, these three share their stories with humor and honesty as they go through Courageous Influence together.
3. Invite a few friends to join you! If you're looking for a way to connect with other women, this is a great way to do so. Simply read each week of Bible study, then gather together (in person or online) to watch that week's video, enjoy your own discussion, and close in prayer. Make sure to check out our FREE Leaders Guide for Courageous Influence for some extra fun and tips.
That's it! Super fun and low stress, yes? Join us here for Bible Study Mondays each week, and know this study content will always be here for you, whatever day of the week you choose to visit. We can't wait to get started!
Don't have your book yet or want to give a copy to a friend? 
Tell us in comments tell us if you've bought your book yet or not, and we'll pick FIVE of you to WIN a free copy!*
Mark your calendars for August 2nd when we'll kick off Bible Study Mondays with Courageous Influence, and tune in TOMORROW, July 21st, at 11am CST on Facebook for a conversation with author Grace P. Cho and (in)courage Community Manager Becky Keife as they discuss Courageous Influence.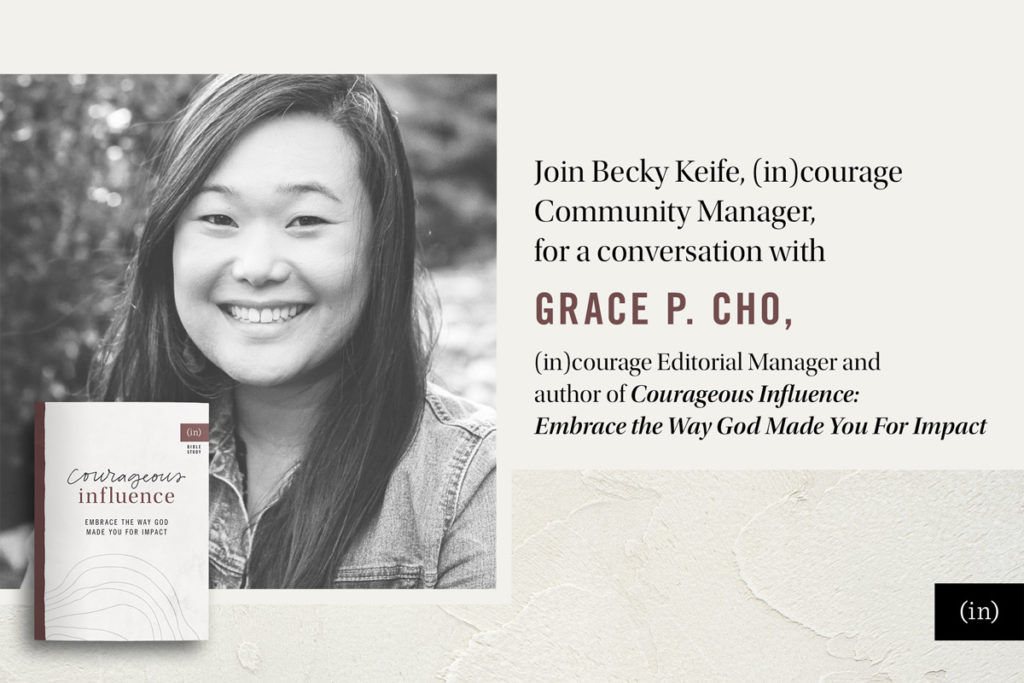 *Giveaway open to US addresses and closes on July 23, 2021, at 11:59pm Central.
Leave a Comment