We're mixing up Bible Study Mondays a bit today! Here's a timely story by Aliza Latta, as published in Week 4 of Courageous Kindness! Scroll down for the usual reflection questions, video, and more.
"What do you think? Which of the three became a neighbor to the man attacked by robbers?" "The one who treated him kindly," the religion scholar responded. Jesus said, "Go and do the same."
Luke 10:36–37 (MSG)
I was about to cook my first turkey dinner for Thanksgiving. It felt like a big deal. I had no idea how to cook a turkey, but I figured if most people managed to cook a turkey on Thanksgiving, I could somehow figure out how to cook the bird myself.
I'd bought all the groceries I needed — far too many potatoes, if I'm being honest, but I've always been a firm believer in having as many mashed potatoes as possible.
I decided to cook at my sister's house because she has a bigger kitchen, so I lugged all my groceries from the fridge in my apartment down to my car. It took three trips. On my final trip down, turkey tucked safely in my arms, I noticed the door of my neighbor's apartment had water seeping out beneath it.
I kept walking, noticing more and more water filling the hallway. I sighed and looked down at the turkey I was holding. I was on a strict timeline — I had even drafted an oven schedule so I'd know exactly what time everything should be cooking.
My neighbor popped out from behind her door, looking frantic. "There's water everywhere!"
She wasn't speaking to me, exactly, but there was no one else in the hallway. For a split second, I considered continuing on my way and pretending I hadn't seen her. But then I remembered a prayer I'd prayed only days earlier: God, give me opportunities to meet my neighbors.
I wanted to laugh. God sure answered that prayer quickly! So I stopped and introduced myself. "I'm Aliza. I can help. Do you have a mop?"
"I'm Mara," she said.
Mara and I talked as we mopped. More accurately, I did the mopping, and she did the talking. I couldn't help but smile, though. I briefly whispered a prayer to God and told Him, Thanks for the chance to meet Mara. Maybe this is exactly what Thanksgiving is for.
Mara and I didn't become best friends, but we did exchange Christmas cards, and now we smile wider when we see each other in the hallway.
My turkey dinner was a little late. But as the day passed and I was able to start cooking, I became more and more grateful for my encounter with Mara. And I started to wonder: Perhaps being inconvenienced is actually the best way to love your neighbor.
– Aliza Latta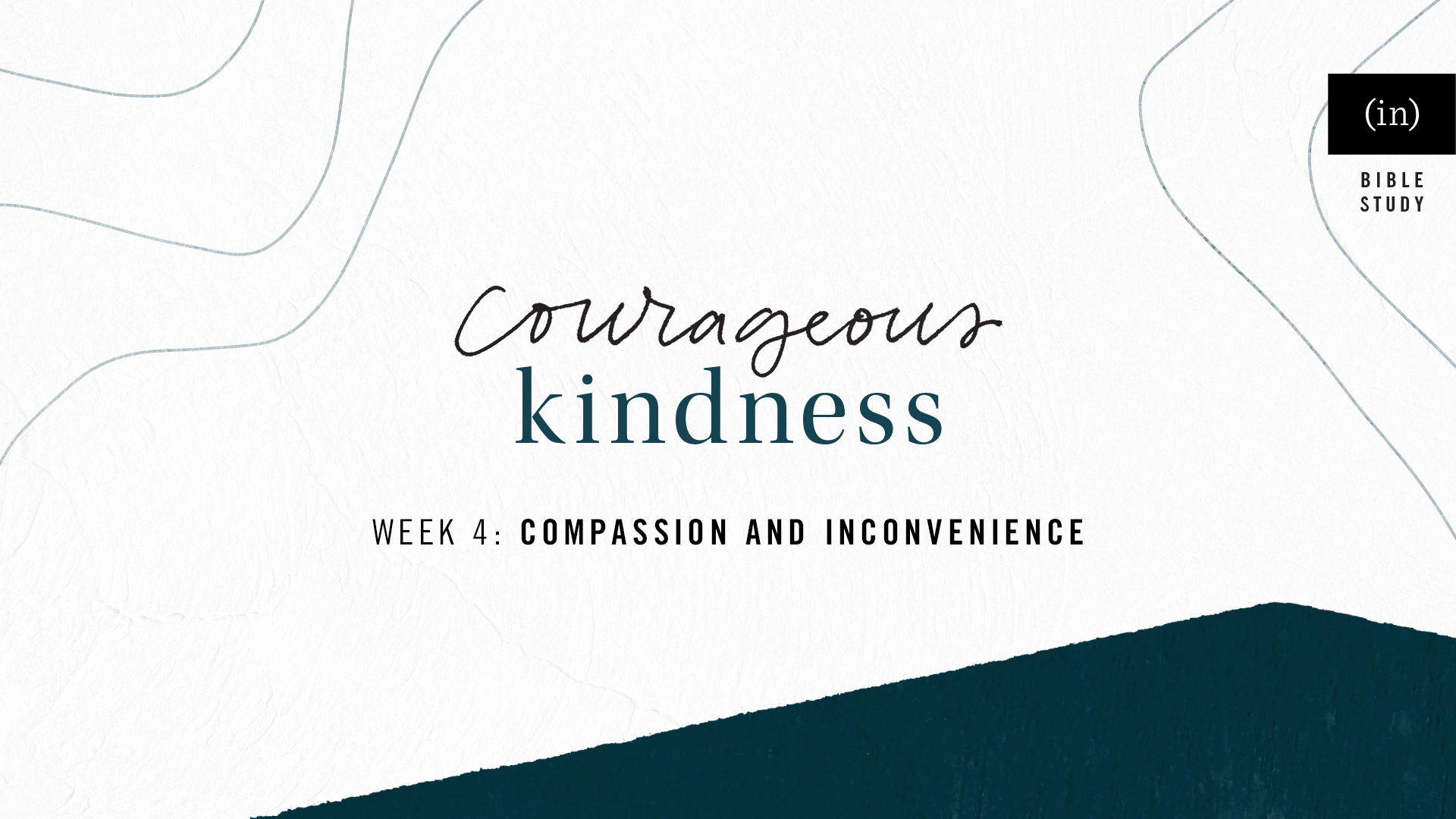 When we think about courageous "as we go on our way" kindness, it's easy to want to look at it through a shiny Instagram filter. As in, how nice to hold the door for a hands-full mama as you walk into a store. Or how kind to pick up the tab for the person behind you in the drive-through line. Sure, such small gestures are great and will probably put a smile on someone's face — maybe even assure them that a total stranger (and God) is mindful of them.
But this week we're going to discover that while courageous kindness can be simple, it also requires our compassion and inconvenience. That first word might sound warm and fuzzy, but the second . . . not so much. However, as we'll learn in a story Jesus told to a group of religious leaders, we can't truly live without either.
Grab your copy of Courageous Kindness and keep reading Week 4!
Discussion Video
Three (in)courage writers invite us into their conversations about Courageous Kindness! Join study author Becky Keife alongside Grace P. Cho and Lucretia Berry each week as they discuss the readings. Listen in on their conversation about Week 4 (and find all the weekly videos here):
Reflection Questions
In the comments below, answer and discuss:
What would you do if you saw an opportunity to help someone but it would be a big inconvenience?
Would you pretend not to see their need and rush by, or would you "put down your turkey"?
Let's Pray Together
Jesus, if there is any way I have falsely understood who my neighbor is, please correct my thinking. As You extend love and compassion to all people, I want to do the same. Lord, give me an opportunity this week to be a neighbor to someone. I'm willing to be inconvenienced for Your name's sake. Amen.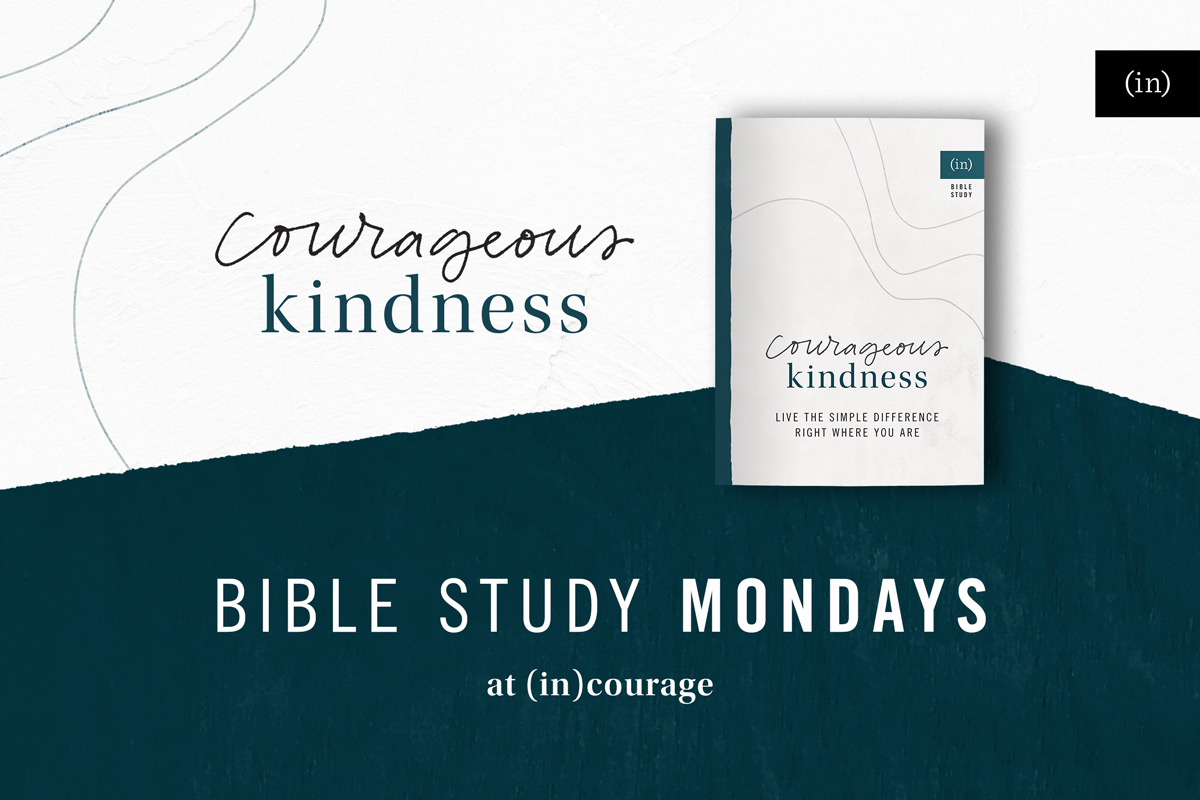 Click here for a FREE week from each of our four Courageous Bible Studies and free leader resources! Also, tune in each Thursday for a new episode of the (in)courage podcast to hear from (in)courage team members Anna & Joy, and writers Becky, Lucretia, and Grace as they all work their way through the study right alongside you. Listen wherever you stream podcasts (or find all the episodes here!)
Answer the reflection questions in the comments so we can discuss Week 4 together, and we'll see you back here next Monday to begin Week 5!
PS – Happy Thanksgiving week to our friends in the US!
Leave a Comment