See what great love the Father has lavished on us, that we should be called children of God! And that is what we are!
1 John 3:1 (NIV)
I love traveling. I love airports too. Flying, though? I hate flying. See, I'm overweight. And while that fact is always present in my thoughts, never am I more aware of my extra pounds than when I fly. I hate flying because I take up too much space.
If I have the choice, I always choose an aisle seat. I hold my breath and suck in my gut and pray that the seatbelt will latch. And then I spend the next few hours squeezing my legs together and digging my elbows into my sides as I try to avoid taking up any extra space — in the aisle, in the seats, in the air.
My scrunched-up and sucked-in body language, along with my apologetic glances and occasional "sorrys" after the inevitable bumps and elbow rubs, is one big apology.
I'm sorry for taking up too much space.
I'm sorry for being too big.
I'm sorry for being in the way.
I'm sorry I'm kind of sweaty from speed-walking to the gate.
I'm sorry I reached over you to turn on my fan.
I'm sorry my leg bumped your leg.
I'm sorry I'm in the way.
I'm sorry you have to sit by me.
Maybe you fit just fine in an airplane seat. Maybe it's something else that makes you hunch your shoulders and stare at the ground with red cheeks, apologizing for part of who you are, for just being yourself.
Are you clumsy? Perpetually late? Awkward? Too talkative? Too loud? Too quiet? Too sarcastic? Too much? Too real? Too you?
No, you aren't. You are wonderful. You are loved. And when God looks at His creation (that's you! and me!), He says, "It is very good." Regardless of how anyone else sees us, we are God's workmanship and masterpiece — and He lavishes His love on us.
If you're tempted to apologize for who you are or how you are, please don't. Remember that you have a right to be here, to take up space — in a conversation, on the airplane, in the grocery store aisle, at the moms group, in the world. And no matter how much space you take up or how you take up that space, you are welcome and wanted and loved.
Thank You, Lord, for being a safe place where I am called good, where I take up just the right amount of space, where I am seen and loved and welcome to be who I am, how I am, just as I am. Even saying that calms my heart and lets me breathe deeper. Give me the strength to truly recognize that no matter how anyone else sees me, I am God's workmanship and masterpiece, and I am loved. Amen.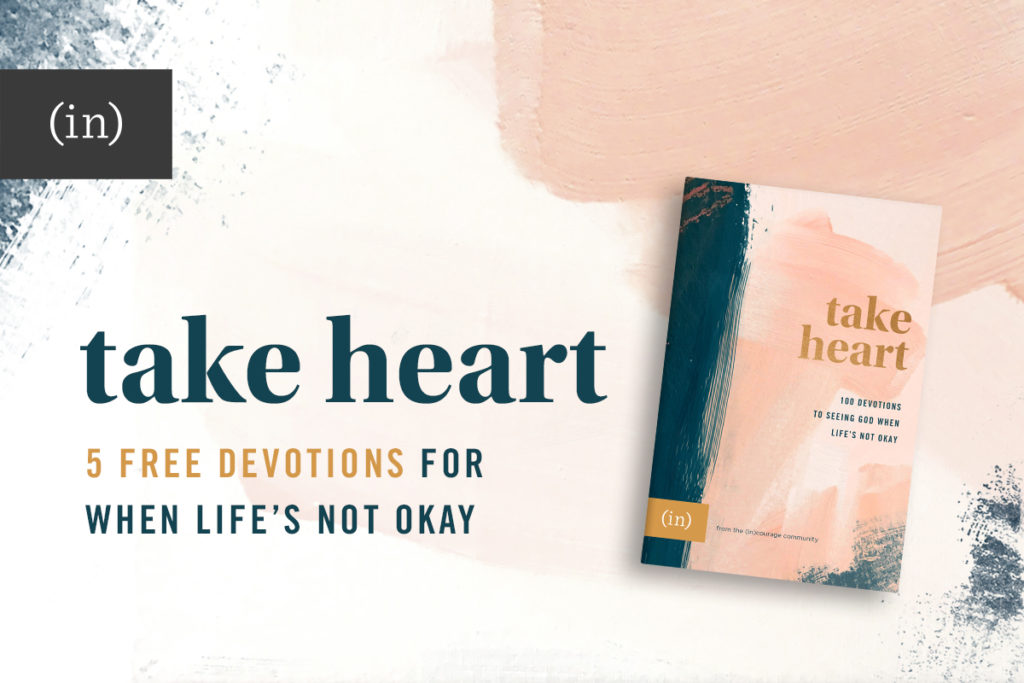 Today's devotion was written by Mary Carver and appears in our devotional Take Heart: 100 Devotions to Seeing God When Life's Not Okay. This collection of courageous stories from forty-four different authors will help you know you're not alone. From struggling with weight, anxiety, and depression to suffering through miscarriage or grieving the death of a husband, from experiencing injustice and questioning our purpose to walking through church disappointments, loneliness, and infertility, the Take Heart writers share from the depths of their hearts and experiences. We want you to know beyond a doubt that Jesus is with you and you are — and always have been — loved.
Get 5 days of devotions from Take Heart for FREE — just sign up below and we'll email them right to you. This book is an offering of hope, from one heart to another — sister to sister, friend to friend. We pray it helps you take heart and bravely face whatever you're up against.
Listen to today's article with the player below or on your fave podcast app.
Leave a Comment