It was the middle of a dark February night last year when I found myself in a hospital room with my daughter. She had been admitted for what would end up being nearly three weeks of around-the-clock care as she battled some pretty serious and scary health conditions. The road that led us to this hospital room was a long and deeply difficult journey. By the time I drove her to the ER that night after everything reached a critical and terrifying point, I was profoundly weary. 
After she was finally able to fall asleep, I laid down on the vinyl couch beside her bed. The only sound in the room was the heart monitor that beeped to the rhythm of her struggling heart as a nurse sat in the room with us, checking on her every few minutes. 
My head had barely touched the pillow when I felt the familiar signs of anxiety begin to flood through my body. My chest grew tight and heavy and my hands began to tremble as I struggled to catch my breath. I have had anxiety for as long as I can remember, but that night, as I faced overwhelming feelings of fear and helplessness, the physical symptoms of my anxiety became almost more than I could bear. 
The previous two years of unanswered prayers and pleas to God had drained me of all my words and I could feel myself unraveling. I felt so alone. So afraid. 
But I had a lifeline. 
In the middle of the dark, when I was struggling to breathe and unable to focus my thoughts enough to find any words to even pray, I remembered a tool that I had spent some time learning about: breath prayer. Breath prayers combine deep breathing with prayers of meditation on God's Word. Made of just a couple of lines from Scripture, they're prayed to the rhythm of inhales and exhales. 
The words of one of the prayers came to my mind that night: "The Lord is my shepherd, I have all that I need."
I took a deep breath. As I inhaled, I tried to focus my mind on the first few words, "The Lord is my shepherd," and as I exhaled slowly, I whispered, "I have all that I need." Then I repeated the rhythm. I inhaled deeply, "The Lord is my shepherd," then slowly exhaled, "I have all that I need." As I did this several times, my anxiety began to ease. The deep breathing helped to calm the physical symptoms of my anxiety, and the simple prayer helped me to recenter my thoughts on Christ and His love for me. I was able to drift off to sleep with renewed peace. 
There in that hospital room, breath prayers gave me words to pray when I had none of my own, when all I had to offer was my trembling breath. They became a lifeline to me throughout that hospital stay, as I walked the halls breathing and praying — praying and breathing through all the hard days. And I've continued to practice breath prayers ever since, to help ease my anxiety while also strengthening my faith. 
For years I saw anxiety as an enemy I had to fight, or a roadblock I had to somehow get over before I could experience any real peace. But the truth is, anxiety isn't my enemy. And it doesn't have to be a roadblock to my faith. In fact, it can actually be a catalyst to an even deeper faith when I pay attention to anxiety as a signal to slow down, take a deep breath, and turn to Christ in prayer. 
Prayer changes things. When we pray, we inhale the truth of God's presence and love, breathing in His goodness and grace — and we exhale the weight of our fears and anxieties, giving God all our worries and wants as we breath out. When you connect intentional slow breaths — which are scientifically shown to reduce anxiety — with the power of prayer, you have an incredible tool that can bridge the brain, body, mind and soul, especially in times of stress. Breath prayer can help calm your anxiety by connecting you to your Creator and aligning your breath to the rhythm of His grace. It can be a lifeline in times of anxiety and a doorway into an even deeper prayer life as you purposefully realign your heart with the One who made you and loves you and is always with you. 
Whether you find yourself in a dark hospital room or your own sunlit kitchen, whether you're standing in line at the store or kneeling beside a grave, whether you're on a hard path or the wrong path or a path that's been broken and busted into pieces, when the feelings of anxiety begin to press in, try taking a little time to slow down, breathe deep, and pray.  
Breathe in deeply: Lord, You are my shepherd.
Things may not be ok right now, but that's ok. You are safe. Because God is with you. He will take care of you. 
Exhale slowly: I have all that I need.
God gives you breath. He will give you everything you need. You are loved and you are held, today and always. 
…
Find hope amid anxiety through the spiritual practice of breath prayer with Jennifer Tucker's beautifully illustrated and practical guide.
Breath as Prayer: Calm Your Anxiety, Focus Your Mind, and Renew Your Soul
will lead you through the practice and proven health benefits of Christian breath prayer: purposeful prayers centered around Scripture that focus your mind on Christ as you calm your body through intentional breathing. Filled with more than 80 breath prayers,
Breath as Prayer
invites you to the crossroads of Christian contemplative practice, Scripture, psychology, and science to deepen your faith, bring peace to your body, and discover a new reliance on Christ.
Breath as Praye
r is on sale September 13. Visit
breathasprayer.com
for FREE pre-order gifts, including a 16-page Anxiety Toolkit, 12 printable pocket prayer cards, 6 beautiful lock screens, and more!
Breathe deeply, lean into God's Word, and discover why every breath can be an invitation to pray.
Get 
your copy
 today (and pick up a copy for a friend as well). . . 
and leave a comment below for a chance to WIN one of 5 copies*
!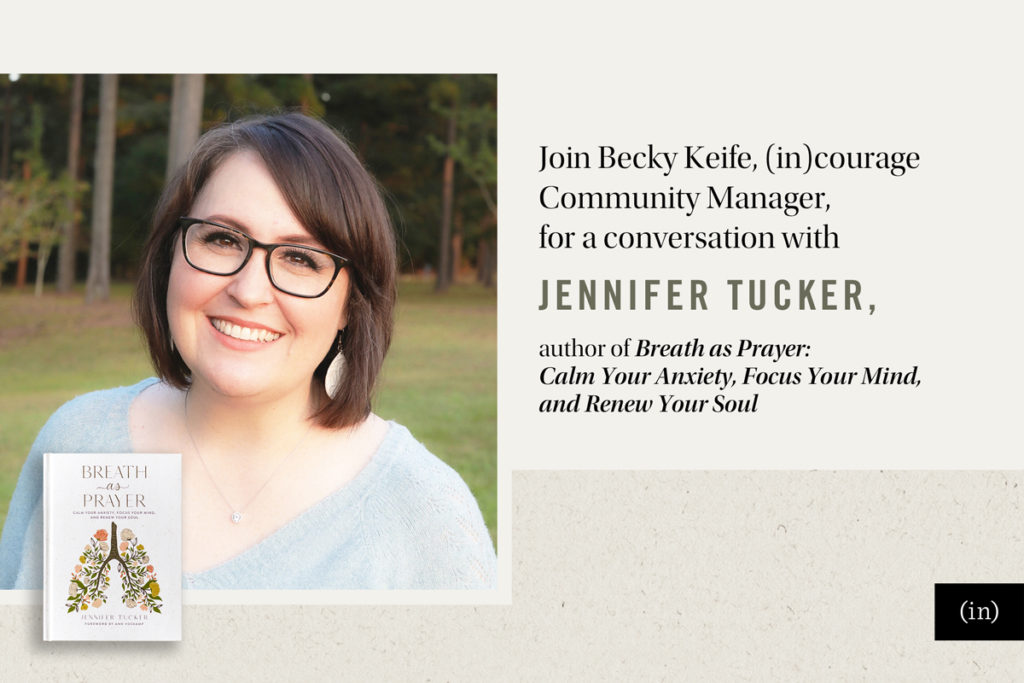 Listen to today's article below or on your favorite podcast player!
*Giveaway open until 8/29/22 at 11:59pm central to US addresses only. Winners will be notified via email. Please allow 4-6 weeks for delivery.
Leave a Comment