Elisabeth Elliot (1926-2015) was a missionary and a critically acclaimed author and speaker. For over half a century, her life of obedience, timeless teachings, and best-selling books have influenced both believers and seekers of the Christian faith. For thirteen years Elliot opened her daily radio program "Gateway to Joy" with these words: 
You are loved with an everlasting love, that's what the Bible says, and underneath are the everlasting arms. This is your friend, Elisabeth Elliot. 
The resounding theme of Elliot's life was the boundless love of Jesus, and her greatest commission was to tell others of His saving grace. This costly call led her into the Amazonian jungle of Ecuador where her husband, Jim Elliot, was one of five missionaries speared to death in 1956 while attempting to make contact with members of the Auca/Waodani tribe. Elisabeth, along with her young daughter Valerie, would later return to Auca territory to live among and minister to the people who killed her husband. Familiar with suffering, Elliot wrote, "The deepest things that I have learned in my own life have come from the deepest suffering. And out of the deepest waters and the hottest fires have come the deepest things I know about God." 
In 2021, a piece of writing by Elisabeth was discovered tucked away in a Word document – it had never been published or seen by anyone. In partnership with the Elisabeth Elliott Foundation, DaySpring is publishing that writing for you in the new book, Heart of God: 31 Days to Discover God's Love for You. The following is an excerpt from this never-before-published piece of work that we hope blesses your heart as it has ours. 
—
Do you ever have those days when you wonder if anyone cares for you? You can be certain that the heart of God cares for you. God's heart is tender and loving. God cares for us when no one else seems to be concerned. When you and I offer our fears, worries, and anxieties to God, we give Him the opportunity to demonstrate how marvelously caring His heart really is, and we allow God to show us how deeply He cares for us.
Peter tells us to "cast" all our cares. This word carries with it the idea of deliberately depositing a burden upon someone or something else. If we were to do that to another person, that person might feel like we were imposing. But it is not so with God. Peter tells us to actually cast it or throw it upon God, who will never feel imposed upon because He cares for us.
Have you humbly opened your heart to Him? Have you taken your worries to Him? Have you accepted the outpouring of loving care that flows from God's heart? If not, then today is the perfect time to do so. Cast your cares upon God and leave them there. When you do, you will experience relief like a heavy load has been lifted from your shoulders. And it has, because the heart of God cares for you.
God, Your loving care for me is deeper than I can imagine. Thank You for caring about me when no one else seems to. I will open my heart to You, and I will return Your love today, tomorrow, and throughout eternity. Amen.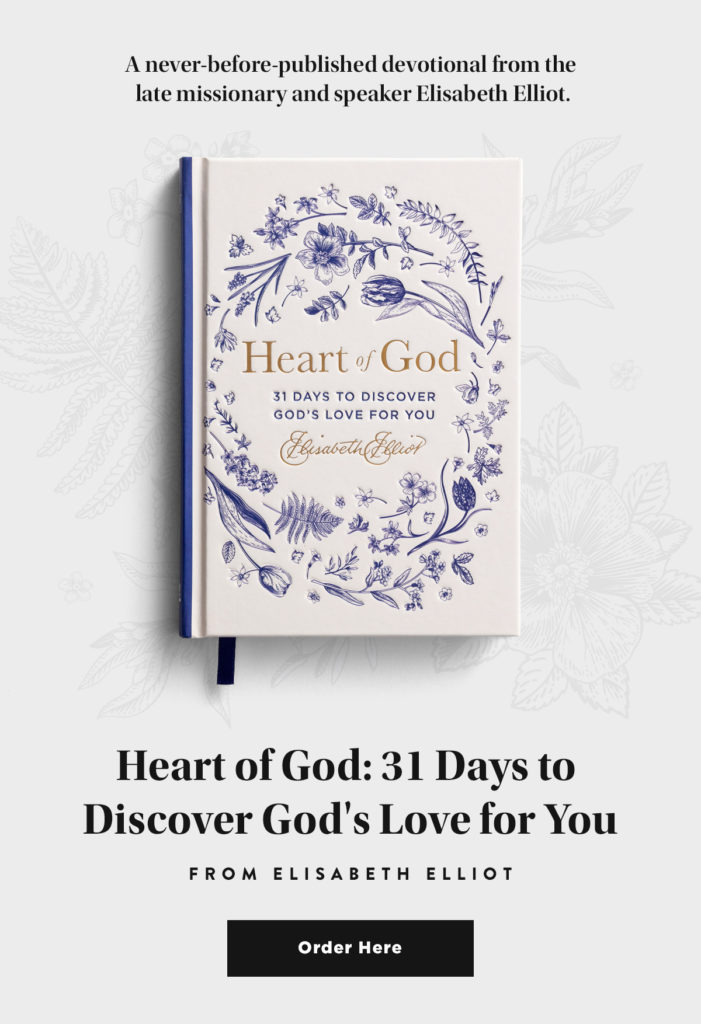 Understanding the depth and reality of God's love for us is one of the great adventures of the Christian life. A Heart of God: 31 Days to Discover God's Love for You is a one-month-devotional journey to open your heart and soul to experience God's character, His intentions, and His great plan for you in your everyday, ordinary life (and this crazy world). You'll find out how the compassionate hand of God is in your every circumstance, even when you are suffering. May you encounter the unfolding mystery of His infinite layers and His unprecedented love for you right where you are at.
Get your copy today (and pick up a copy for a friend as well). . . and leave a comment below for a chance to WIN one of 5 copies*!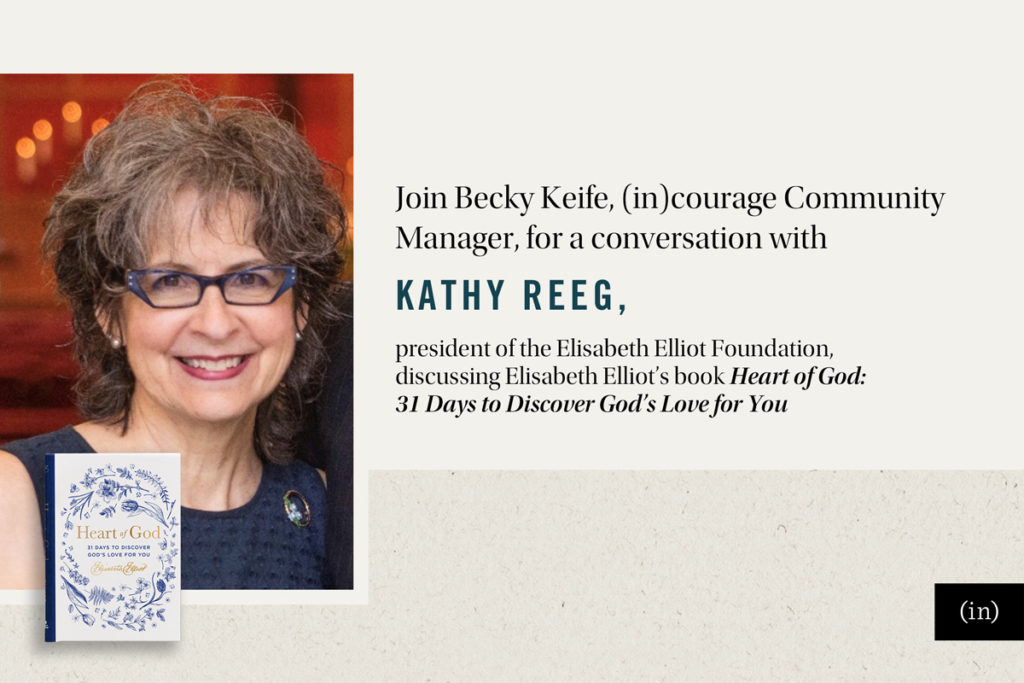 Then join Becky Keife for a conversation with Kathy Reeg, president of the Elisabeth Elliot Foundation, tomorrow on Facebook and Instagram! We'll replay their conversation on the (in)courage podcast this weekend too. Don't miss it!
Listen to today's article at the player below or wherever you stream podcasts.
*Giveaway open until 9/23/22 at 11:59pm central to US addresses only. Winners will be notified via email. 
Leave a Comment