Over the last six weeks, our family hosted and celebrated Thanksgiving, visited and welcomed visiting family, and attended kindergarten/preschool and church Christmas programs. Three of my kids had birthdays (and so did I!) and we hosted parties for each one. I volunteered at my kids' school. And now in just a few weeks, Christmas Day will both come and go.
Lunches have been packed, meals have been made, baths have been given. Words and glances have been exchanged, laundry was (or wasn't) done, crumbs and toys and towels have been left on the floor until I pitched a fit.
Life has marched along, way too fast for the beat of this drummer.
And after it all, Christmas will come.
Maybe the last six weeks held joy for you, and maybe they held pain. Perhaps both. Either way, Christmas will come.
Maybe the last six weeks held cleaning, baking and hosting, wrapping, decorating, and movie nights. Maybe the last six weeks have been idyllic and beautiful and storybook. At their happy ending, Christmas will come.
Maybe the last six weeks held hard things. Floods of memories, too many to hold in your heart so you eat, you run, you sleep, you shop — you cope. Waves of disappointment, in family and friends and yourself and though this season is supposed to be full of thankfulness and peace, you felt neither. On a day when you'd rather stay in bed, Christmas will come.
Maybe the last six weeks held busy. Drop-off, pick-up, work. All the everyday that grinds and rubs wrong and blesses all at once. A kid may have thrown up, and you most likely stepped on a bunch of Legos. You held every tiny detail together and juggled too many invisible, unseen, under-appreciated plates. You shopped and wrapped and got dressed for church. Your back ached, and the kids didn't sleep all night, and family drama ensued, and you've been the glue that holds all the moving pieces together. Especially when there just aren't enough hours in a day, Christmas will come.
Maybe the last six weeks held feelings of loss, of abandonment. Maybe you experienced a parting of ways in a relationship. Maybe you felt as though God was taking (or has taken) things away from you. Maybe you felt as if the holidays couldn't possibly arrive in your house, in your heart, because you have no room and nothing to give. Even — maybe especially — when you're running on empty and full of disappointment, Christmas will come.
Christmas came to a peasant girl in first-century Palestine.
Christmas came to a world steeped in sin.
Christmas came to a barn in the middle of the night. Christmas came to a feeding trough.
Christmas is bigger than anything standing in our way because Christmas is Jesus. And Jesus comes to us in all walks, in all times, in all capacities. Jesus comes to us in pain, in joy, in despair and anguish, in everyday apathy, in seasons of wealth and seasons of pennies. He doesn't diminish our situation or feelings but faithfully meets us right where we are. Whether overwhelmed, underwhelmed, overworked, under-appreciated, over it, under it . . . Jesus arrives to be with us.
Whether we got the pies baked and gifts bought, whether the dust bunnies are thriving or the house is clean, whether our schedules are jam-packed or clear, whether our spirits are bright or our hearts are heavy, Christmas will come. Jesus will come. He is with us already, Immanuel in our everyday.
This article is from the archives and featured in Everyday Faith Magazine.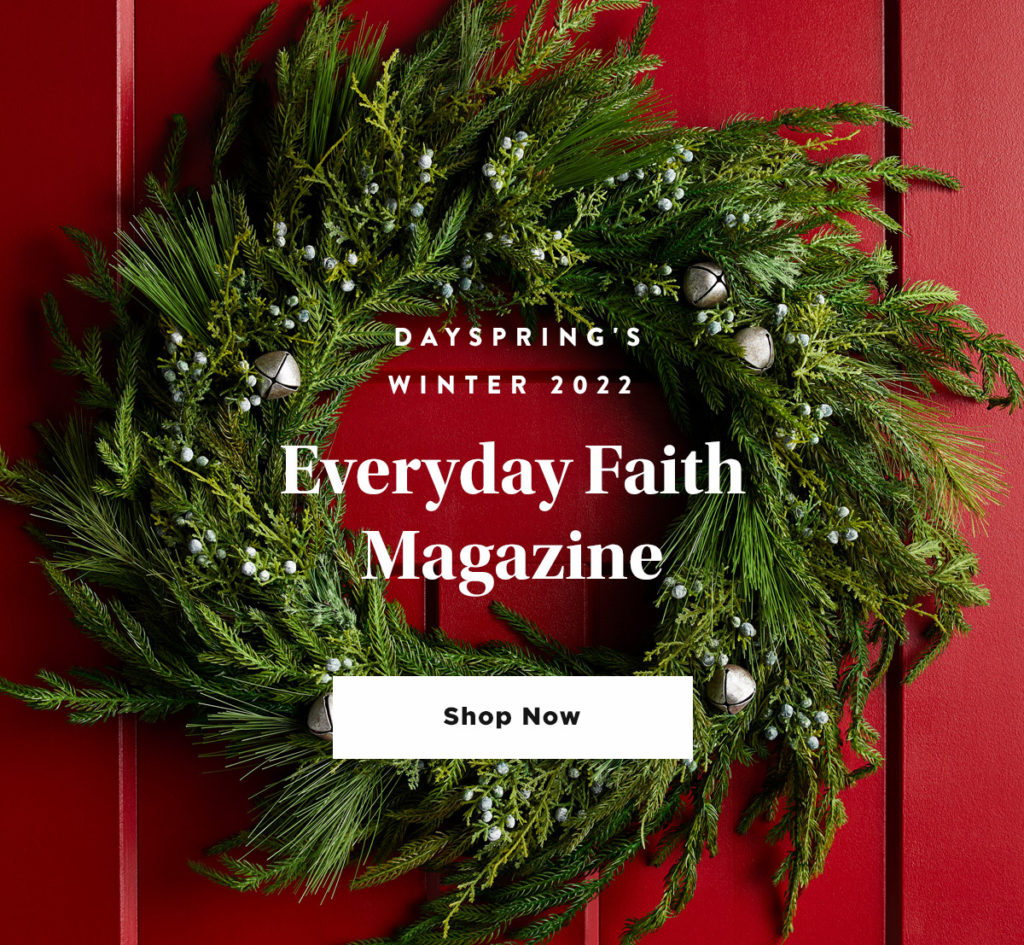 Did you know DaySpring has a magazine? It's true! And the brand new winter issue of Everyday Faith just hit newsstands!
From cover to cover, you will find stories and articles to inspire hope, prompt reflection, and encourage you for the upcoming months. There are tear-out prayers to share cards, scannable QR codes for goodies, and exclusive Winter Planning Calendars tucked inside!
You care about your faith — that's why you're here today! — and Everyday Faith magazine will help you know and share God's love in fresh, true, and inspiring ways. Pick up your copy wherever magazines are sold and at DaySpring.com. This article is just one of many featured in Everyday Faith magazine, which, by the way, is perfect for reading on your lunch break, bringing to the school pickup line, or gifting to a friend.
And to help you do just that, we're giving away FIVE sets of magazines — one for each winner and one for them to give to a friend! Leave a comment telling us to whom you'd gift a copy, and we'll draw five winners.
Giveaway open to US addresses only, and will close on 12/3/22 at 11:59pm central. 
Listen to today's article below or wherever you stream podcasts!
Leave a Comment