Obviously, I'm not trying to win the approval of people, but of God. If pleasing people were my goal, I would not be Christ's servant.
Galatians 1:10 (NLT) 
Look straight ahead and fix your eyes on what lies before you. Mark out a straight path for your feet; stay on the safe path. Don't get sidetracked; keep your feet from following evil.
Proverbs 4:25-27 (NLT) 
We're always comparing. They have more spending money than we do, but we have a cozier home. This friend has a fast-paced, highly successful career, and we enjoy our job just fine but work mostly for the weekend. That neighbor seems unattainably confident in their skin, and we spent last night researching different diets.
Comparison seems to be ingrained in us, and it's only harder when you're single.
Unfortunately, if we get into this mode of thinking, it also makes the holiday season even more difficult. We go to a party and are asked approximately 32 questions about our dating life, we catch up with friends we haven't seen in a while and they are newly dating or engaged, and we compare our singleness to everyone around us who is in a seemingly happy and joyous relationship. We look at our lives – and even though they are filled with beautiful things big and small- the lack of a relationship causes us to feel like we come up short. These passages exhort us to cease the comparison game, and instead focus on our own path that God is leading us down.  
If you are single: Part of comparison is the evaluation of if there is enough to go around – enough success, enough happiness, enough love. But just because others around you are in flourishing romantic relationships and solid marriages does not mean that opportunity is gone for you. Just because it is for them doesn't mean it's not for you. Theodore Roosevelt once said comparison is the thief of joy, and that rings true when you assume that others' relationship success means there is no hope for you. The idea that when someone else finds happiness in a relationship, your chance at this same happiness is diminished is simply untrue. Besides, the joy that is there for you today, on your path, is devalued when you peek at a path not meant for you.
Instead, if you actively work to focus your eyes ahead on the path God has laid out for you, you will find joy untethered from comparison. God knows your desires and your heart, and He has laid out a path just for you. During the holidays, it's okay to invite other people to not ask you about dating, to reject bad advice, and to have to take a break from the small talk when you need to refocus and remind yourself of the goodness of your life in the here and now. You are single, but you don't have to be sorry.  
If you aren't single: It's hard not to ask the single people in your life about dating – it's so exciting! But just like your relationship with your significant other is a facet of your beautiful and complex life, the same is true for those of us who are single. As you gather with friends and family this holiday season, consider asking after other elements of your single friends' lives: their job, their pet, their favorite kind of cheese. . . We'd welcome the opportunity to bond with you over our similarities, not what often feels to us like our biggest difference: our relationship status. It will be such an encouragement to your single friends when the emphasis isn't placed on their single life but on who they are as a person.
None of us were created as a fragment, looking for its matching piece in the heart of a significant other. Psalm 139 says that we were "skillfully formed" (v.15) by God and "in Your book were written all the days that were ordained for me" (v. 16). God, your Father, created you unique and distinct from 8 billion other people on earth. And the same is true for your single friends. Many of us would love that reminder from a friend or family member during this season. 
The bottom line is: our God is not a God of lack but abundance. Comparison tempts us to feel that we are lacking, but God reminds us that He has a path full of richness and joy laid just for you. During this holiday season, let's all pursue intentionality as we flee from the comparison trap and love one another with the love of God Himself.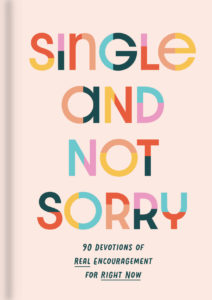 Opinions about single life — especially Christian single life — are plentiful and wide-ranging. In a social world that idolizes romantic relationships, single people can easily feel incomplete or less than. Single and Not Sorry: 90 Devotions of Real Encouragement for Right Now provides readers with inspiration from God's Word about living according to God's trustworthy purpose and plan regardless of their relationship status. Our true value is found in Christ alone — and through this book, readers will be able to confidently appreciate and enjoy exactly where they are in life. Single and Not Sorry releases in February 2023 – preorder your copy today!
Listen to today's article at the player below or wherever you stream podcasts.
Leave a Comment