My midwife told me when I was birthing my second baby girl that if I held my breath the contractions would hurt even more. My natural reaction in pain is to tense my muscles and hold my breath to avoid the pain. In childbirth, I needed deep, long, measured breaths to carry me through the pain. Somehow breathing through the pain helped release the pressure instead of holding it at bay until it tumbled like water crashing over a dam.
In my journey of loss, I have learned that, as in labor, we have to breathe through the contractions, the triggers, and the sorrow of grief. Though grief can often feel like a slow, dull ache, there are also times when our grief journeys will feel more intense, like quickened contractions in childbirth or what they call "transition"— that intense period when contractions come right on top of each other before the baby is born.
In Genesis 32, we read about Jacob seeing God face-to-face in his time of need. Jacob is in a hard place. He is fresh out of a crisis with his uncle Laban. He feels distressed and afraid because his brother Esau and four hundred of his men are making their way toward him (Genesis 32:7).
Jacob decides to take his two wives, two female servants, and his eleven children (his closest people) with him across the Jabbok River to protect them. After he sends them to relative safety, he is jumped by a stranger who wrestles with him through the night. 
"When the man saw that he could not overpower him, he touched the socket of Jacob's hip so that his hip was wrenched as he wrestled with the man. Then the man said, "Let me go, for it is daybreak." But Jacob replied, "I will not let you go unless you bless me."
Genesis 32:25-26 NIV
The man asked Jacob his name and then proceeded to rename him Israel because he struggled with God and with humans, and overcame. 
Jacob said, "Please tell me your name." But he replied, "Why do you ask my name?" Then he blessed him there." Genesis 32:29 NIV
Jacob was afraid, alone, and physically broken — but that is the precise moment when God chose to bless him. God entered the challenge with Jacob, which may have been a spiritual battle as much as a physical wrestling, and then changed his name to Israel and honored him for prevailing through the wrestling match.
This scene is a good reminder that God can handle our anger, our frustration, our doubts, and our discouragement.
He is with us in our grief even when we are wrestling spiritually.
Friend, I know it might be tempting to just grit your teeth and power through, but expressing our anger and frustration to God can actually help us emerge on the other side with resilience and strength. It's like breathing through the most intense contractions and releasing the pressure instead of holding our breath through the pain.
You may feel angry about the death of your loved one or the injustice your child experienced. You might feel frustrated that your family has experienced loss. It's not wrong to have those feelings.
In Ephesians 4:26–27, Paul reminds us: "Be angry and do not sin; do not let the sun go down on your anger, and give no opportunity to the devil" (ESV). In this passage, Paul isn't saying we should never be angry. He acknowledges that anger may rise in us, but it shouldn't cause us to sin.
Acknowledge your hard-to-handle feelings. Shout them to God. Breathe through the pain, and be on guard, as Paul highlights, to ensure you do not dwell in your anger or give the devil a foothold. 
I struggled through many of those feelings after my husband died from cancer. I questioned and cried, wrestled and wrung my hands. I laid my lament at Jesus's feet day after day. Little by little, I learned to breathe through the contractions, and that's where a deep healing and trust in God were born.
Is there something you are grieving today? Is there a circumstance that makes you angry that you need to name? Write it down or share in the comments.
Pray this prayer with me:
Dear Lord,
Like Jacob, I am wrestling today.
I am feeling the weight of frustration and anger.
Meet me in those feelings.
Help me to see where You are at work in the circumstances.
Give me the fortitude to keep fighting until I reach the truth.
I long to see Your face like Jacob did amid my own struggle.
I long for Your blessing.
In Jesus's name,
Amen.
—
After the sudden loss of her husband, Dorina felt lost in her grief. In her new guided journal, Breathing Through Grief, she provides a compassionate, giftable resource for those who are processing their own loss, whether of a loved one, a season of life, or a dream. In addition to the twenty-five short devotions that each focus on a different aspect of grief from Dorina's personal experience, the journal includes special resources such as:
breathing exercises
reflection questions
soul care tips
ample writing space
advice on how to talk to children about death
suggestions on how to approach triggers
creative ways to honor a loved one's memory
If you or someone close to you is walking through loss⁠, let the comforting words in Breathing Through Grief encourage you with the knowledge that you are not alone and bring you a semblance of peace as you continue forward on the road to healing.
We know this book will be a blessing in your life, or the life of someone you love.
Order your copy today . . . and leave a comment below for a chance to WIN a copy*!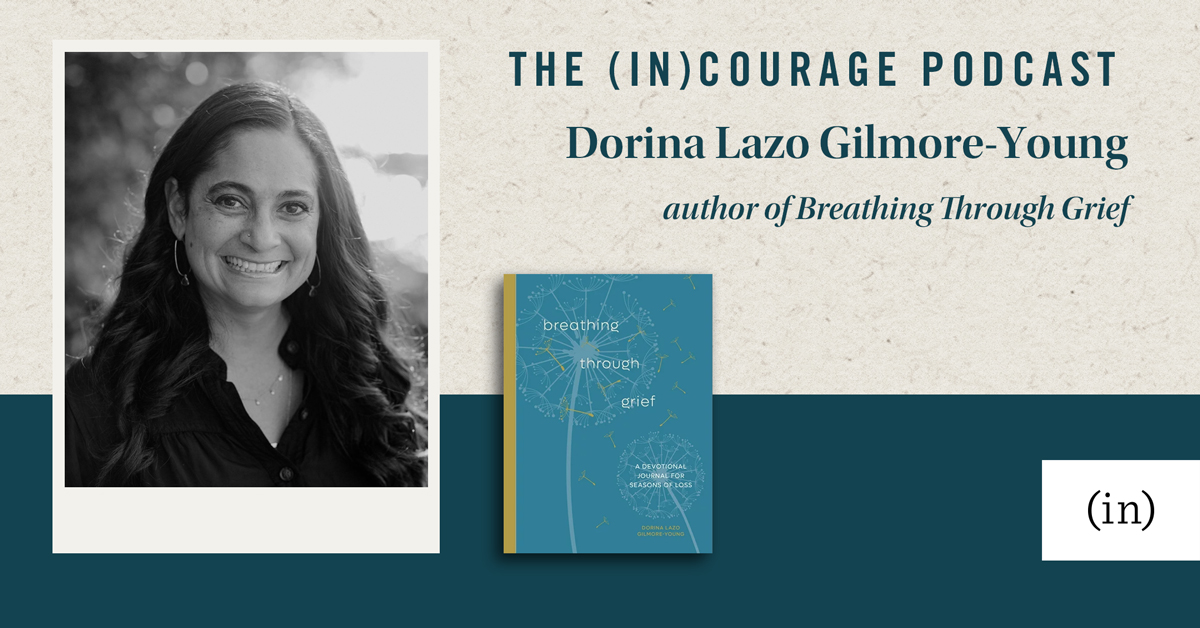 Then join Becky Keife this weekend on the (in)courage podcast for a conversation with Dorina. Don't miss it!
Listen to today's article at the player below or wherever you stream podcasts.
Leave a Comment