Debbie from the plane. Her name caught my attention as I was going through the contacts on my phone. Debbie! I closed my eyes. I could see her bouncy hair matching her boisterous southern drawl. Instantly, I was transported back to that June day when I'd met Debbie. It was the day my plane almost crashed.
I'd boarded a plane headed from San Diego to Denver on a cool morning. As the plane approached the landing strip, it bobbled back and forth like a ping pong ball in a hurricane. The pilot immediately pulled the plane straight up like a rocket launching into space. My hands clenched the seat divider. The pilot said something about air pockets, the storm, and how everything was going to be okay. Out the window everything was murky; the clouds were as dark and thick as molasses. 
Unsuccessfully the pilot attempted one more dangerous landing before we were rerouted to Grand Junction Airport, an hour away.
Every passenger belted out a hearty cheer as our plane landed and slowed to a halt.
When I finally got off that dreaded plane, I ran toward the rental cars. I refused to take a bus all the way back to Denver. Unfortunately, everyone else had the same idea and the cars were completely gone. The rental car guy said, "I do have one twelve-passenger van." He dangled the keys. A tantalizing idea tickled me. I looked to my right and saw a single woman and to my left was an Asian couple with a baby and another family of four. I started doing the math. Yes! We could do this. It might just work. I gathered the closest strangers in a huddle like we were planning out our next strategic play. In a wild turn of events, we almost felt giddy. Twelve strangers from around the country, meeting for the first time, overcoming a near-death experience, were now traveling together in a van with one destination in mind — Denver.
The road trip took most of the day. That's when I met Debbie. "Debbie from the plane" sat right next to me. She was sassy, blunt, and full of quick, say-what-everyone's-really-thinking-but-too-afraid-to-say-out-loud comebacks. This small group of strangers bonded. We shared Goldfish crackers, told stories, and used each other's phone chargers. We passed around family photos. We all laughed so hard. My heart expanded like those magical foam mattresses you get in the mail. I grew to really enjoy these people.
On the drive Debbie told me about her faith and how disheartened she was by the church. I didn't offer answers, but I listened. She shared about how her grandfather was a preacher and how she wants to raise kind children. I reminded her of how God never loses sight of us no matter how broken life gets. I shared my Jesus journey too.
We all have a story, don't we? Every stranger, every human, every soul has a story. I got to hear Debbie's. And in the most unimaginable way, with the gray sun dropping behind the storm-covered Colorado mountains, I smiled. This journey that ended up taking me a total of sixteen hours was what my soul needed. I needed to be stuck in a van with strangers to see people again. I needed to remember how fragile life really is. I needed to listen, laugh, and connect on a human level with people who were in many ways just like me. I needed this detour as a reminder of how much I loved humans. God always knows what we need. He will take us on the long route if it means He can give us the water our souls are really longing for. 
Sister, stay awake to the detours God gives you as divine invitations to the greatest, deep-down, soul smiles.
I know you have desires. I know your soul is hungry. You might even be in a place where you feel like your desires have been forgotten. The path you are on might not make logical sense. Perhaps the place you are in isn't where you thought you'd be. When you look at your current circumstances, you may feel behind or off-track from your plan. The temptation will be to look at your life like it's a calculus problem to solve. Resist this.
Instead, be where God has led you. Stay where He has invited you to be. Let your body, mind, and heart all be in the same place. Be fully in it even when it feels muddled, uncomfortable, and incredibly confusing. Wake up even when you are tempted to fall asleep, check out, and numb everything. The sweet taste of God's love when you are connected to the life He has entrusted to you is better than any dream you could ever imagine. Detours aren't actually detours; they are the way we were always meant to travel.
I wonder if I'll ever see Debbie again. I wonder what everything meant. I'm not sure I will ever know why things happened the way they did, but I do know that tucked into that tumultuous day were moments popping with joy. I do know that at the end of my life I want my phone filled with contacts that say things like, "Mike the guy from the grocery store," and "Alice the gal who served us breakfast," and "Debbie from the plane." I want to know I followed the detours, the long, arduous, dying-to-dreams, talking-to-strangers kind of detours because they always lead to an awakening of God's love story inside of mine.
—
You've felt it — the underlying anxiety that you're missing out on the good life. So you zone out, swipe up, work hard, and spin in circles trying to get it. Anjuli Paschall calls it carpe diem syndrome — the fear of not living life to the fullest. But the full life isn't found by chasing it. It's found by coming awake to it. In her new book, Awake: Paying Attention to What Matters Most in a World That's Pulling You Apart, Anjuli casts a compelling vision for you to live a soul-awake life too. The invitation might be as gentle as a song or as abrupt as a rooster's crow, but God is always waking you up. You can have the life you really want, and you don't have to lose your soul trying to get it. Breathe in. Breathe out. Full life is right here.
Leave a comment below telling us how this book could be the encouragement you need, and you'll be entered to WIN a copy of Awake!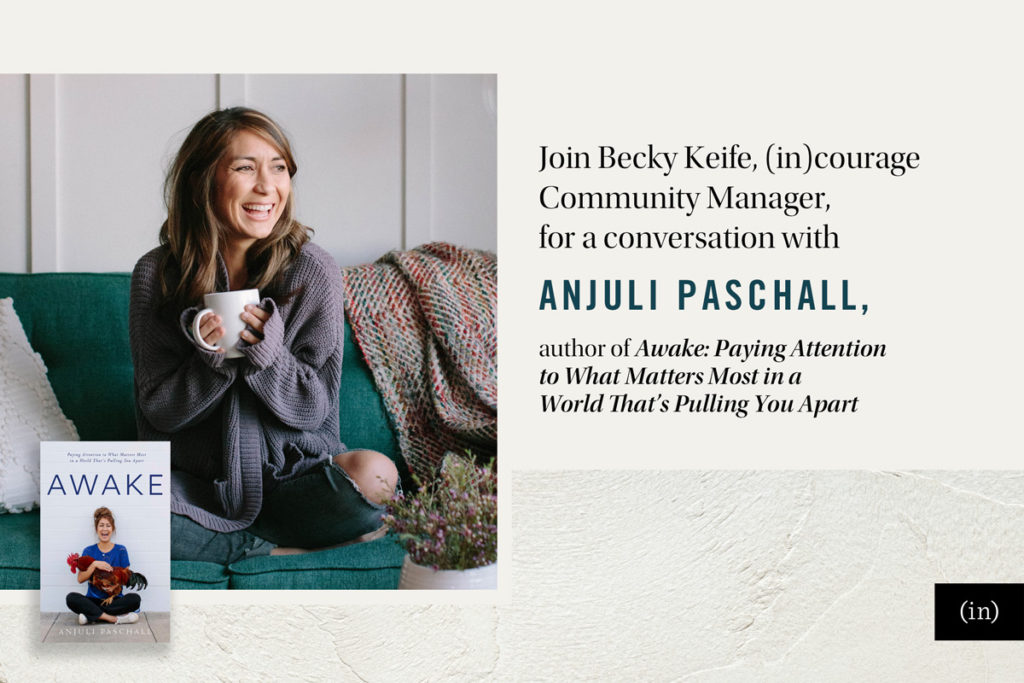 Then join Anjuli and (in)courage community manager Becky Keife for a chat all about becoming Awake! Tune in tomorrow, 4/13/22, on our Facebook page at 11am CST for their conversation.
Giveaway open to US addresses only and closes on 4/15/22 at 11:59pm CST.
Listen to today's article below or on your favorite podcast player!
Leave a Comment